Graphistudio "Primo Book"  features up to 350 pages
Three reasons to love your Primo Book
up to 350 pages, sizes from 9.5×13" (25×35 cm) to 12×16" (30x40cm)
The modern book concept takes inspiration from simplicity as a form of true greatness. A book capable of including up to 350 large format pages, printed with digital technologies on different typologies of fine art papers. These features allow to catch emotions never felt before in a wedding book, thanks to hundreds of pictures telling the story of that day, letting you relive every moment.
Every album is made à la carte by our artisans. You can use our 3D configurator to design it, controlling every detail or simply modifying your own templates.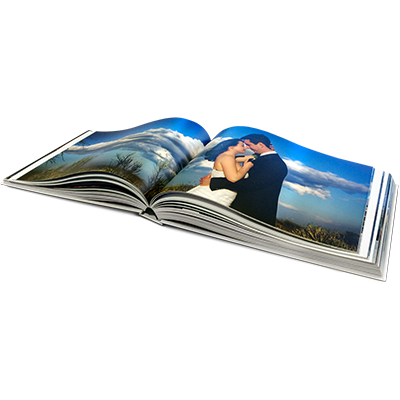 Leafing through a Primo Book instils an idea of infinity. The perfect binding, a classic used for the first time by Graphistudio in a primary wedding book, doesn't necessitate any additional inserts and allows to contain from a minimum of 100 to a maximum of 350 pages. Thanks to the new book structure, the page maintains a soft and fluid movement, highlighting the book concept. A Perfect binding, the most resistant option currently usable for digital books, is also available.
A brand new box is available as an addition to the book: shaped by elegant lines it encapsulates a surprising design. The opening mechanism of the top represents a new way of containing a book while preserving the minimalistic artistic expression in perfect harmony with what it contains. The Design Box is outstanding thanks to its unexpected lightness, specifically developed to support the book without adding weight to the larger sizes. The structure of the Design Box coordinates with different materials in various combinations, creating highly emotional chromatic and sensorial harmonies.

A stream of emotions
A cinematographic story telling a tale through a sequence of faces, looks and precious moments. Nothing will be lost, and you will be able to relive that day endless times, and from endless different perspectives too. After all, today photographers shoot huge amounts of pictures, so why having to accept forced choices and selections when you can have them all? This is the strength of the Primo Book, a book giving room to all the memories you want!
The 12×16″ (30x40cm) and 9.5×13 (25x35cm)  inches formats – available as vertical, landscape or square – house the images by taking advantage of the whole dimension of the page, perfectly showing layouts that enhance the atmosphere created by the photographs. These typologies of formats are ideal to highlight edgeless images, by using the whole space available to obtain a cinematographic effect.
Smaller formats, such as the 8×12″, 12×8″ and 8×8″ (20×30, 30×20 and 20×20 cm) are available as parent books.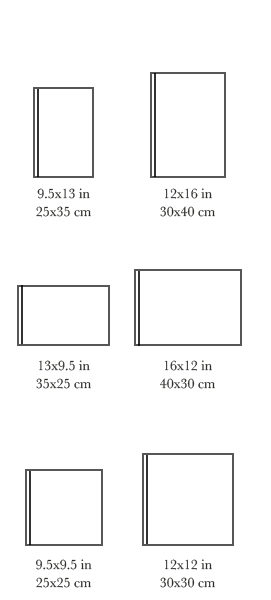 The covers: where the magic begins
The price of the Primo Book includes one of the following hard-back cover options: Photographic Paper, Maple, Soft Touch white or black, Linen, Leatherette, Cloud leatherette, Class leatherette in a wide choice of colours. It is also possible to order our full range of covers from the Wedding Book range with square spine.
Cover options, your personalizations
Traditional, creative: you can be anything you want with our options available to personalize the cover. The key thing is to make every cover special and unique to your clients and their story.
Paper options and printing
At Graphi we are maniacally driven by printing quality, colour management and paper finishings; it's part of our DNA, an heritage from the three founders Tullio, Enzo and Maurizio. Choose among some of the best media available:
Block side printing
You can make your book even more special, printing the block sides of any RGB colour to create an interesting pattern with the cover and/or the box material. You could also push it even further, creating an artwork, a text, anything to make it creative an unique.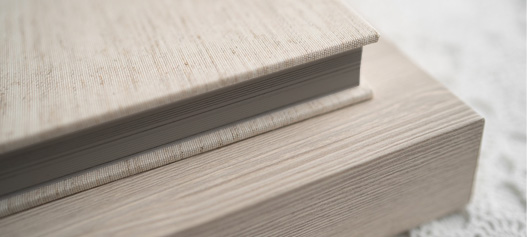 Covering
The covering of the outside and inside of the box can be diversified for what concerns both the materials and the colors.

Linings and lux linings
Aside the classic high quality, timeless black board you can add a special touch to the volume, featuring one of the 18 different colours between matte and brilliant shades of linen.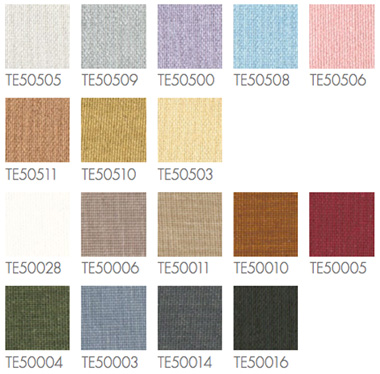 Ennoblements
Both the box and the cover can be ennobled by color overprinting and selective raised varnishing. Meanders, textures, and texts can be impressed, blending with the many tones available for the materials.