Graphistudio Matted Album shapes your dreams
thanks to its timeless elegance and Made in Italy style.
Three reasons to love your Matted Album
an amazing range from linen to leather, sizes from 8×12" (20x30cm) to 12×16" (30x40cm)
A classic and timeless style enhanced by avant-garde technologies gives life to a product of superfine quality: superior materials, amazing printing quality and accurate assembly make Graphistudio's Matted Album a benchmark for the entire industry.
Every album is made à la carte by our artisans. You can use our 3D configurator to design it, controlling every detail or simply modifying your own templates.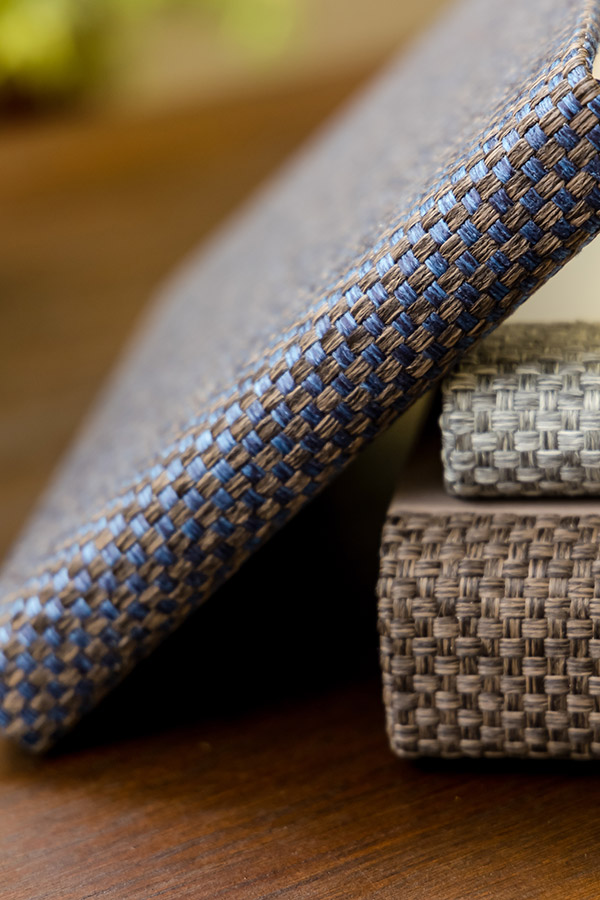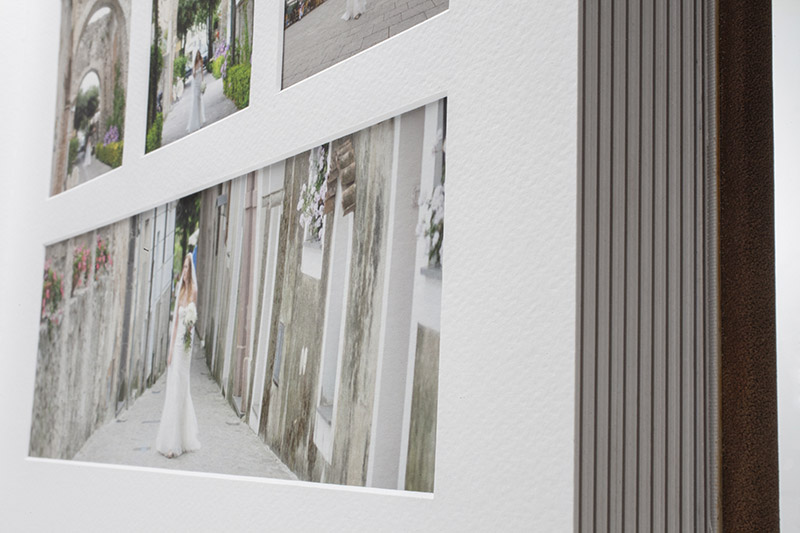 Made of refined Tintoretto paper that enhances the classic character of this product, the passepartout are carefully cut thanks to a numerical control process. Forget strict catalog settings, our Matted Album allows you maximum freedom of expression by creating openings and, therefore, a unique narrative rhythm for each story.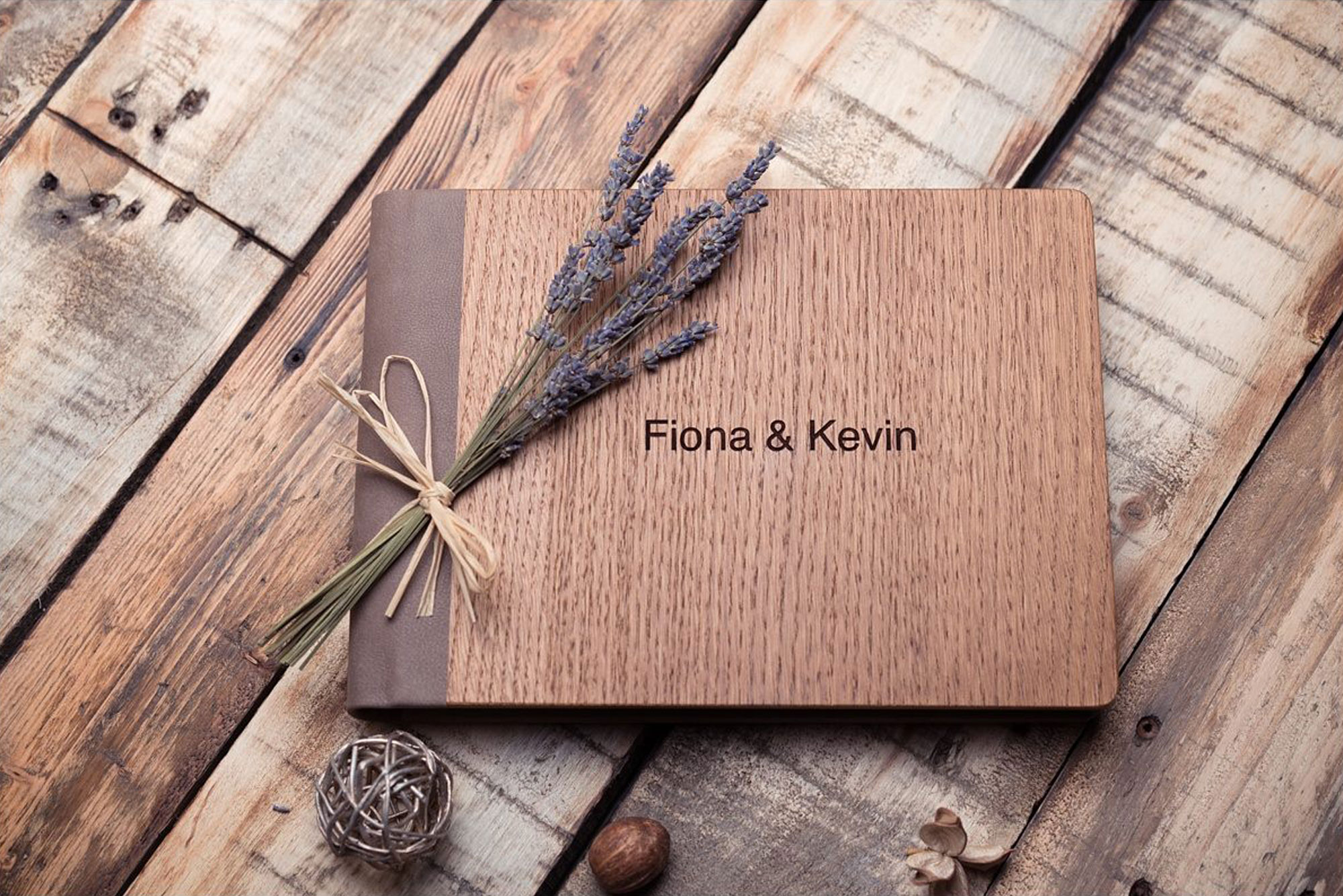 Wether you love full grain leather or natural fibers, crystal clear acrylic or eco leather our range will let you design a one of a kind heirloom. Lifetime guarantee and made in Italy wow factor complete the bow.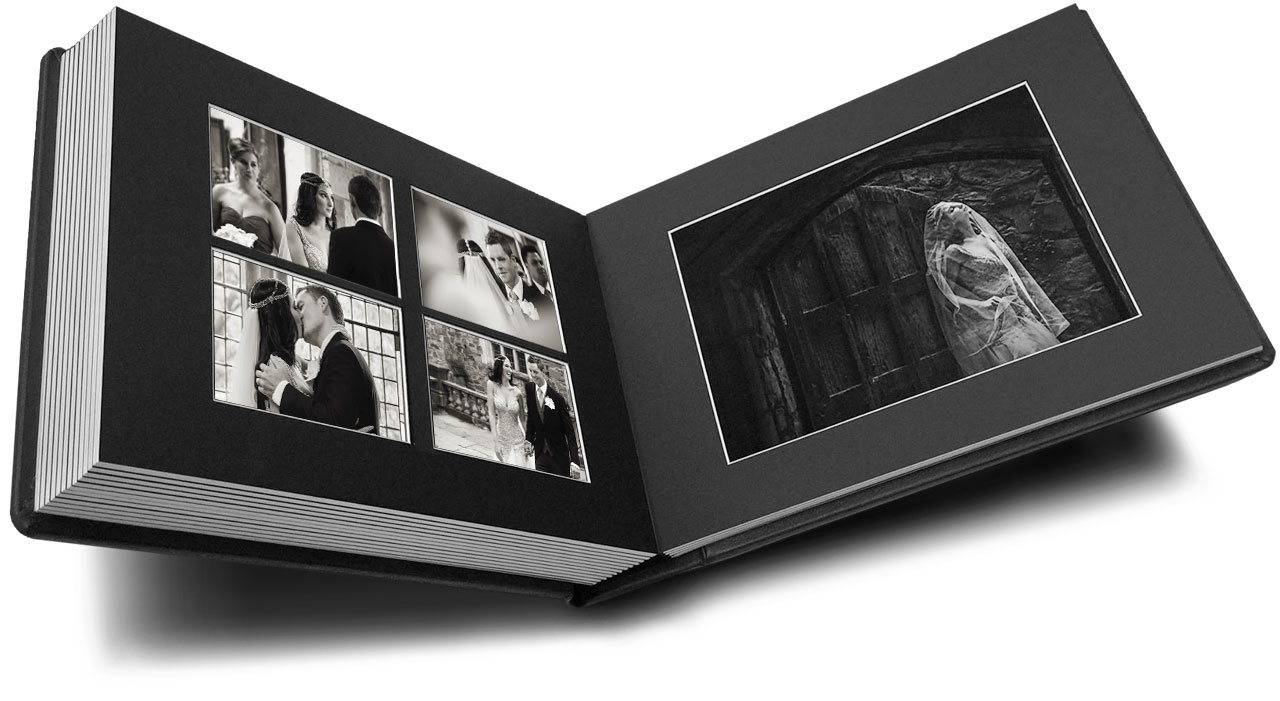 The Matted Album is available in 9 sizes: Vertical: 8×12; 9.5×13; 12×16 (20×30; 25×35; 30×40 cm). Horizontal: 12×8; 13×9.5; 16×12 (30×20; 35×25; 40×30 cm). Square: 8×8; 9.5×9.5; 12×12 (20×20; 25×25; 30×30 cm).
You can clone your main book into smaller copies, flush mount as well, ideal for parents and friends: 4×5" (10x13cm), 6×8" (15x20cm), 8×12" (20x30cm) vertical, square and landscape. Or even smaller copies stitch bound: 2×2.5" (4x6cm), 2.5×4" (6x10cm), 4×5" (10x13cm) vertical, square and landscape.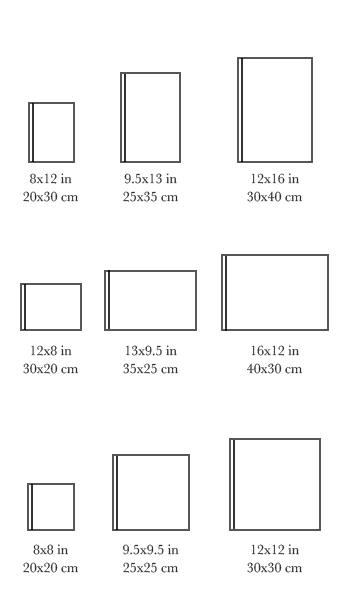 In the Matted Album, a thin or beveled mat is applied over the page of printed images. The process of cutting the mat openings is done with maximum precision to correspond to the layout of the images. The layout is not subject to any fixed template and can be prepared with any software, Photoshop and InDesign included, by simply applying a thin border around the images per the specifications below. Files can be uploaded as PDFs or JPEGs (see our Print & Bind document for all the relevant details). By using Graphisoftware 6.2.0, you can design the Matted Album as you would any of our other books, simplifying the process (see Graphistudio 6.2 pdf).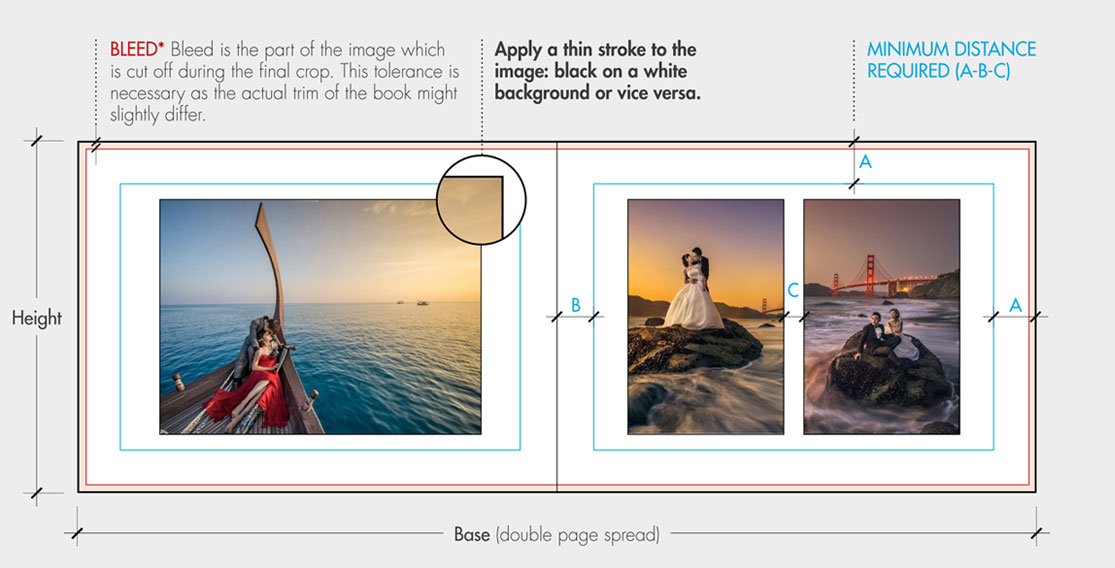 The aperture will be 1/3 of inch smaller than the actual dimensions of the image in order to ensure the perfect superimposing of the mount on the perimeter of the image. The Matted Album with thin mounts can include up to 60 pages (30 double spreads), the one with bevel mounts up to 40 pages (20 double spreads).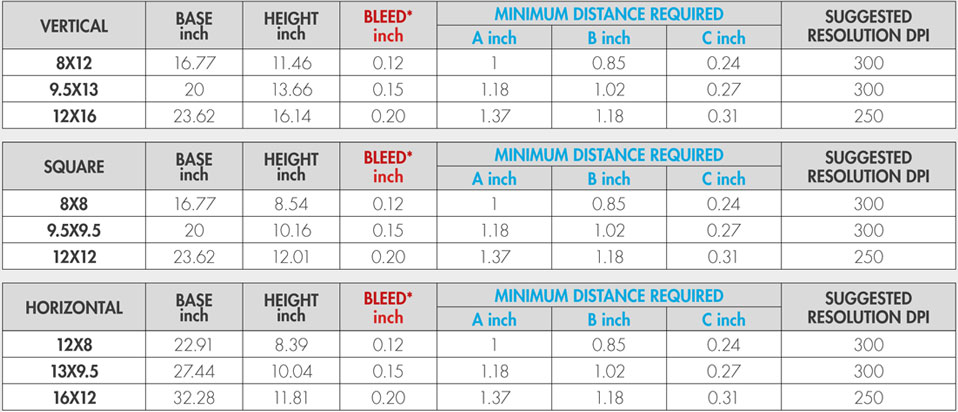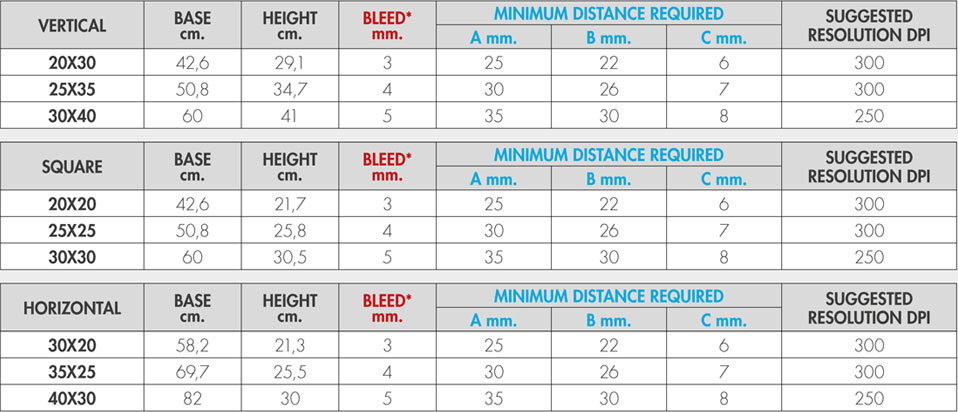 The covers: where the magic begins
Creating the cover is one of the most exciting moments in the book design process. Graphistudio has always offered an immense richness of materials and customizations. In order to guarantee uniqueness and exclusivity, our covers are all handmade in single copy, and you can easily define every detail with our 3D configurator!
Cover options, your personalizations
Traditional, creative: you can be anything you want with our options available to personalize the cover. The key thing is to make every cover special and unique to your clients and their story.
Spine options
Choose the style of the spine among 4 different options: rounded, stitched rounded, square and stitched square. The stitched version allows you to mount different materials on the spine and the cover, creating interesting tone over tone or colour patterns. All these options feature any material of choice, but they confer a different character to the book.

Paper options and printing
At Graphi we are maniacally driven by printing quality, colour management and paper finishings; it's part of our DNA, an heritage from the three founders Tullio, Enzo and Maurizio. Choose among some of the best media available:
Lamination
At Graphi we also offer high quality film lamination. This film gives maximum protection, and is available in both glossy and matte finish. Lamination prevents against wear and tear and also gives your pictures protection against moisture.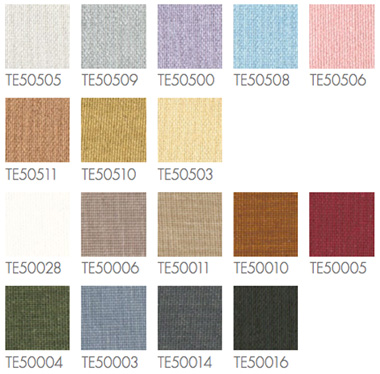 Linings and lux linings
Aside the classic high quality, timeless black board you can add a special touch to the volume, featuring one of the 18 different colours between matte and brilliant shades of linen.
Smaller copies, happier clients!
Have you ever considered to complete your package with beautiful smaller copies of the main album, ideal for bride and groom parents, witnesses, friends and much more? The amazing variety of formats, bindings, papers and even cover upgrades gives you endless possibilities. Best part: you don't need to do anything! We take care of it, using the same layout you provide for the main volume. No stress, just extra profit and happier clients.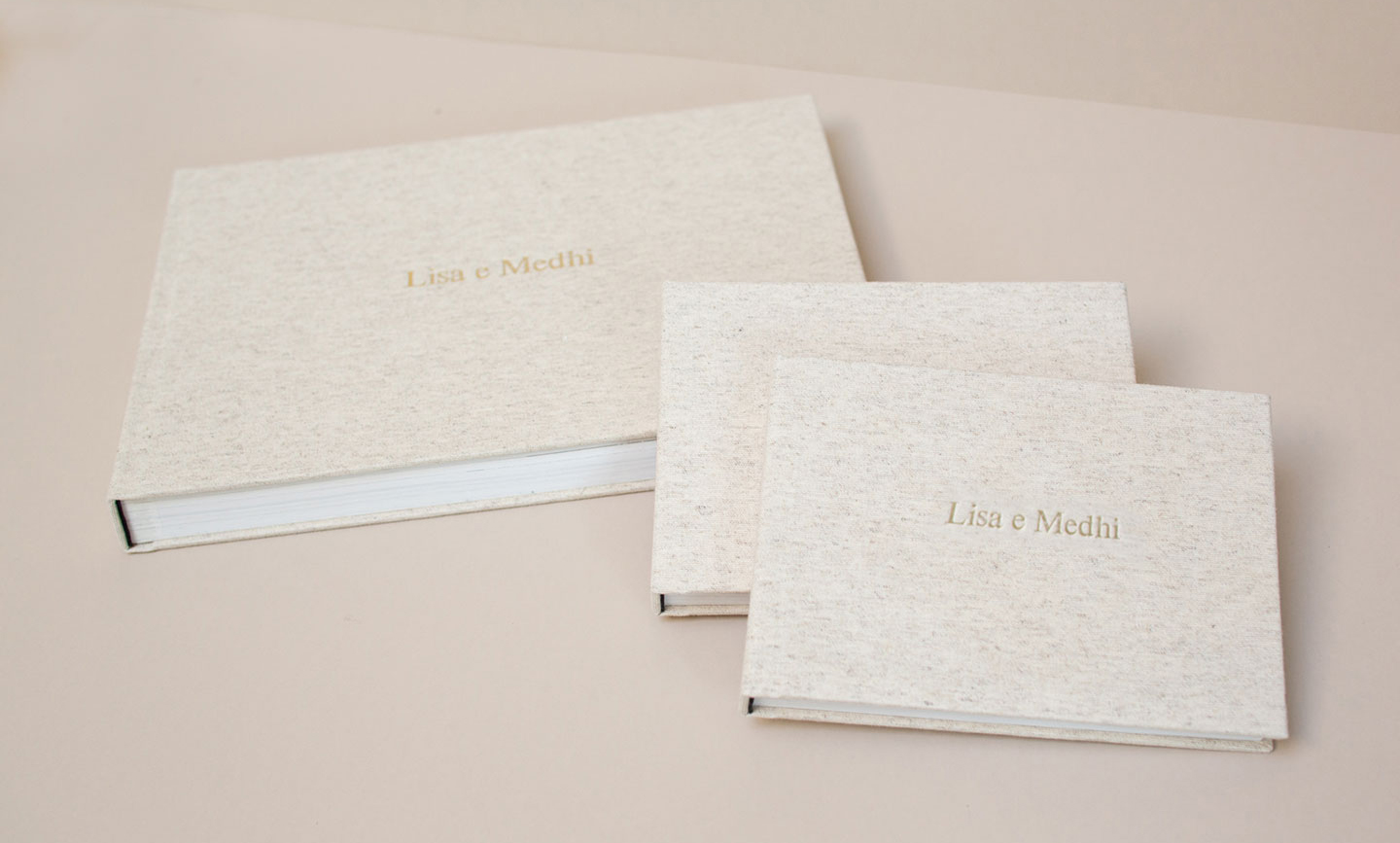 Parent books
Flush mount (continuous binding) 4×5" (10x13cm), 6×8" (15x20cm), 8×12" (20x30cm) vertical, square and landscape.
Pocket books
Perfect bound: 2×2.5" (4x6cm), 2.5×4" (6x10cm), 4×5" (10x13cm) vertical, square and landscape.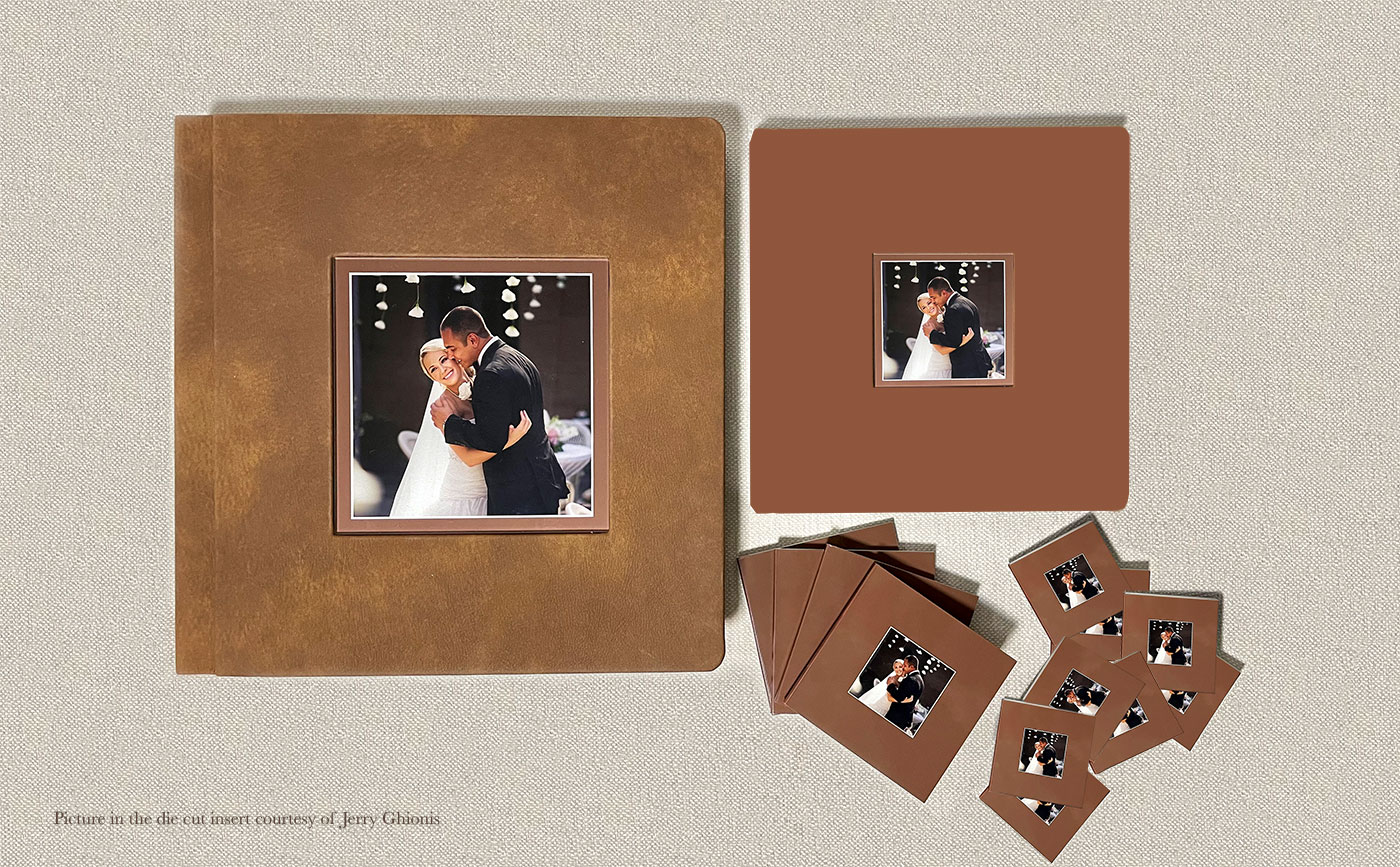 Model shown:
– 1pc 14×14″ Die Cut Large Cover, Sequoia premium leather SE4001
– 2pcs 8×8″ Parent Book copies, with leather upgrade cover
– 4pcs  6×6″ Pocket Book perfect bound
– 8pcs 4×4″ Pocket Book perfect bound