The new Material Swatch Box includes all the material options offered by GraphiStudio.
It is a powerful sales and design tool beautifully presented in an elegant display box.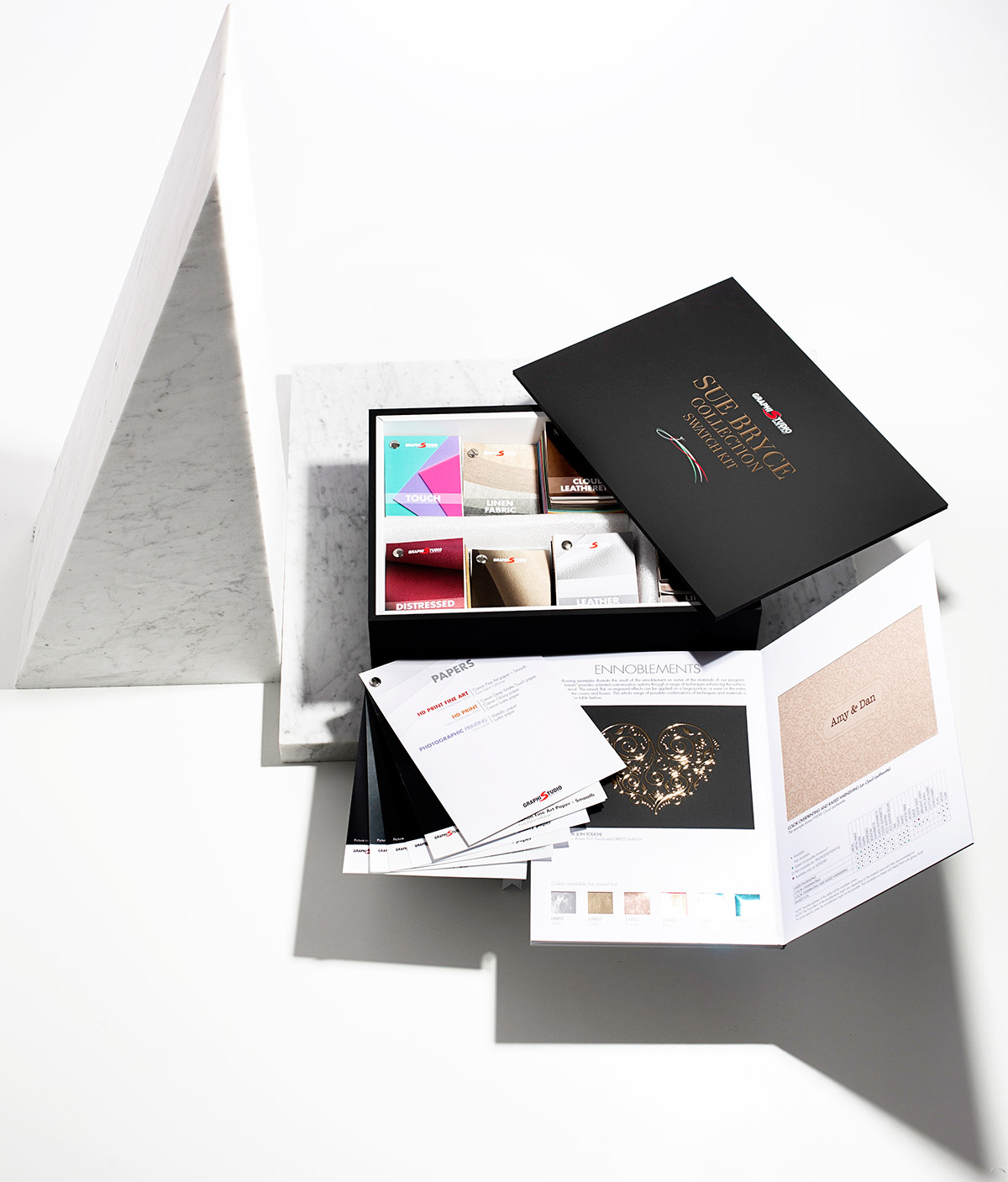 The widest choice of premium materials
At Graphistudio we believe in perceived quality. That's why our choice of materials and colours offers the best in terms look and feel, either in case of genuine italian leathers or vegan-leathers, as well as natural fibers.
This is not just the broadest catalogue, it's the greatest added value to your creative ideas.
With the Material Swatch box you will be able feel and touch the amazing range of possibilities that we are offering and envision the final result.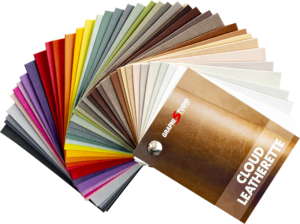 The Material Swatch Box includes the full range of options offered by Graphistudio.
It is a powerful sales and design tool in an elegant display box. Having the ability to see and feel the colours and texture will release your creativity and make decisions easier. The swatches come in a 24 x 34 x 12 cm display box (9.4 x 13.4 x 4,7 inches), covered in black Touch material, with two separate compartments. The flexibility of this tool will allow you to add new materials from future collections.
Upper compartment
The upper compartment, closed by a removable lid, contains:
23 bundles for a total of nearly 270 actual samples:
Leather: 23 colours
Sequoia: 5 colours
Distressed: 18 colours
Crystal: 1 colour
Wood Fibre: 3 colours
Eco Leather Deluxe: 2 colours
Eco Leather: 6 colours
Nappa: 16 colours
Cotton: 15 colours
Leatherette: 4 colours
Class Leatherette: 2 colours
Cloud Leatherette: 40 colours
Brilliant Linen: 8 colours
Matte Linen: 9 colours
Maple: 21 colours
Linen Fabric: 14 colours
Woven: 8 colours
Suede: 7 colours
Suede Paint: 4 colours
Silk: 2 colours
Touch: 29 colours
Ribbon: 28 colours
Fluo: 6 colours
2 inserts featuring samples of rigid materials:
Wood and Cork: 5 colours
Metal and Metal Paint: 12 colours
Lower compartment
The lower compartment opens with a push-open feature and includes:
Ennoblement samples:
1 brochure including 9 examples illustrating the different customisation and ennoblement techniques (debossing, gold/silver foil debossing, laser engraving, sublimation, colour overprinting, colour overprinting and raised varnishing, raised foil).
1 bundle with all the printing and finishing options:
11 types of paper, printed with 4 technologies (offset, photographic, Canon HD print and HD print Fine Art), 3 types of lamination (glossy, matte, soft touch) and 3 page thicknesses (thin, thick and rigid).
1 bundle with DMA art mattes
9 art mattes with the different shades for the DMA printing (covering white and varnish)
1 brochure containing colours and codes of all the available materials.
Check out the Sue Bryce Collection