Young Book: clean design, with a traditional touch
Three reasons to love your Young Book
Iconic and always chic, sizes from 8×12" (20x30cm) to 13×17" (35x45cm)
The choice of formats, papers, covers, coordinated accessories and prices is amazingly wide: the perfect option to produce your own, unique, book and to perfectly satisfy all your needs.
Fresh and up to date, the YOUNG BOOK perfectly ecaptures the fine balance between timeless craftsmanship and the interpretation of an as yet unexpressed desire. It answers the call for a product different from formal, classic and sumptuous books, allowing to choose a simple and fresh product instead, ideal for those who love a combination of modern aesthetics and practicality.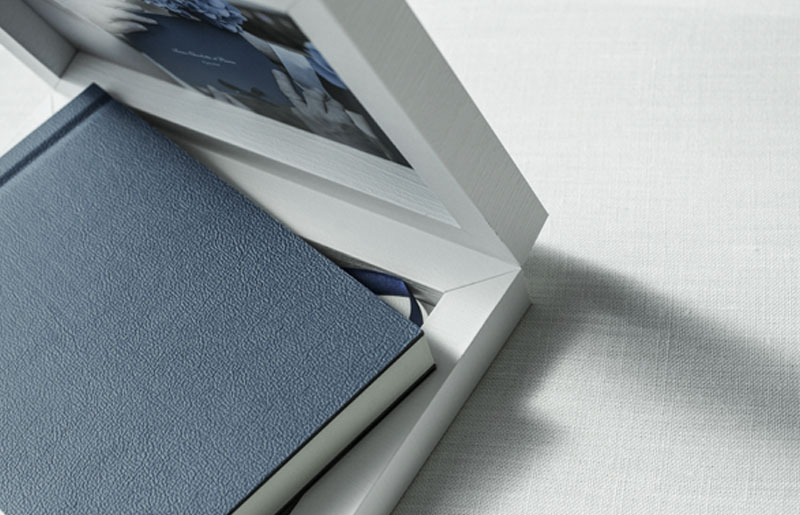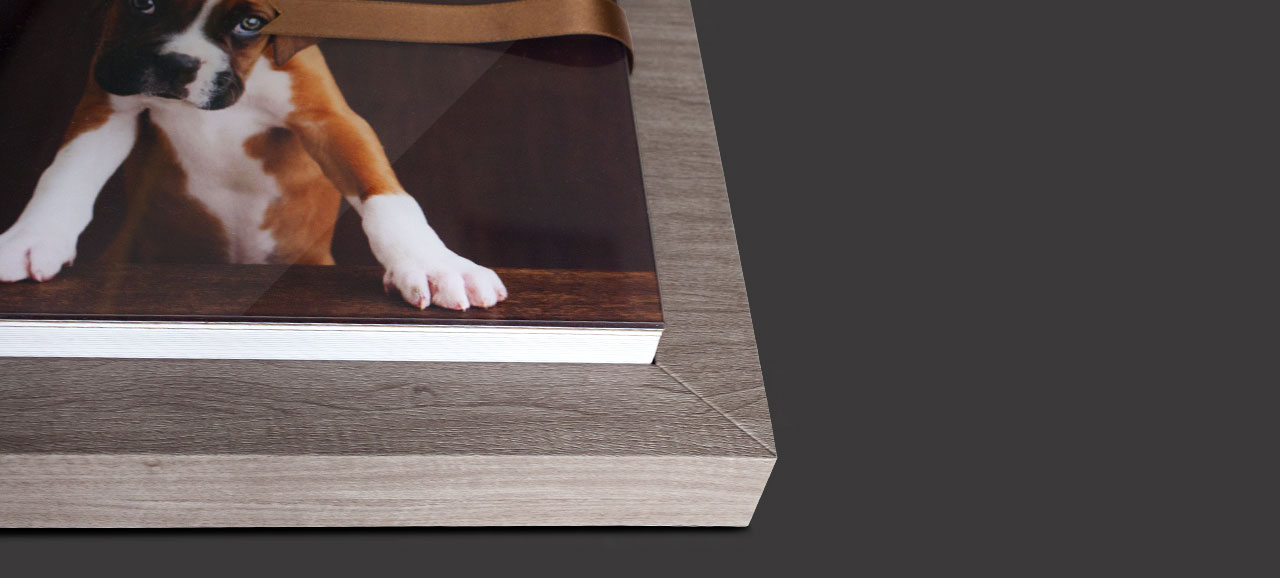 A state-of-the-art product where layouts are the main characters. Young is a book of minimal and rigid lines, composed by different elements combined in a refined harmonic balance of materials and shapes, which become the focal point of a line reflecting the personality of those who choose it.
Young Book represents the overcoming of a formal yet unsurpassed limit, where the book was achieved through the creation of thick covers, with round spines. Today the curves disappear, the covers become thinner, leaving room for the essential shapes of the box and the book, for a minimal and simple result that denotes a strong avant-garde taste.
Our book sizes range from 14×18" (35x45cm), the classic 12×16" (30x40cm) to the compact  8×12" (20x30cm). The corresponding landscape and square versions are also available.
You can clone your main book into smaller copies, flush mount as well, ideal for parents and friends: 4×5" (10x13cm), 6×8" (15x20cm), 8×12" (20x30cm) vertical, square and landscape. Or even smaller copies stitch bound: 2×2.5" (4x6cm), 2.5×4" (6x10cm), 4×5" (10x13cm) vertical, square and landscape.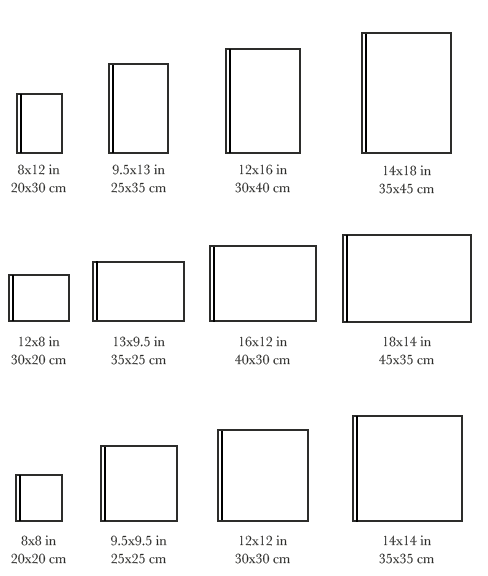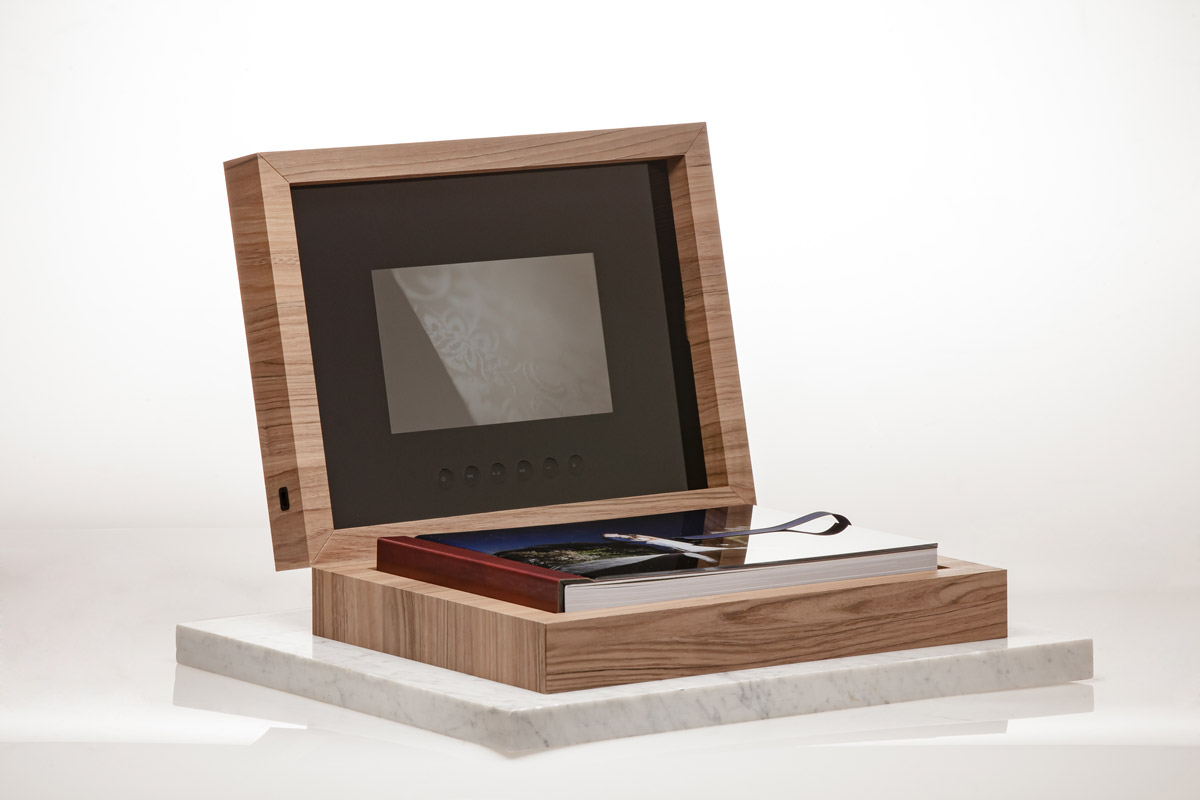 The Young Book .MOV features all the materials, colors and options of a regular Young Book. Thanks to 2GB/4GB solid memory you can play videos, slideshows and music at will!
The Young Book .MOV is the enhanced time capsule to keep all your clients memories and emotions in one place.


Lithium-ion battery
(up to 5 hours battery life)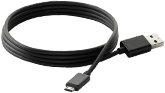 Mini USB cable
(recharge/file transfer)



Lithium-ion battery
(up to 5 hours battery life)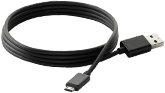 Mini USB cable
(recharge/file transfer)
The covers: where the magic begins
Creating the cover is one of the most exciting moments in the book design process. Graphistudio has always offered an immense richness of materials and customizations. In order to guarantee uniqueness and exclusivity, our covers are all handmade in single copy, and you can easily define every detail with our 3D configurator!
Leathers and leatherettes
Cover options, your personalizations
Traditional, creative: you can be anything you want with our options available to personalize the cover. The key is to make every cover special and unique to your clients and their story.
Paper options and printing
At Graphi we are maniacally driven by printing quality, colour management and paper finishings; it's part of our DNA, an heritage from the three founders Tullio, Enzo and Maurizio. Choose among some of the best media available:
Lamination
Lamination is available as an option for all papers, in both glossy and matte finishing.
These high quality films, permanently applied to the printed pages, offer a protection layer against moisture and wear and tear. The scratch-resistant matte lamination is even more robust and totally prevents also fingerprints.
Page thickness options
Two different thicknesses for your pages, both of them compatible with the panoramic flush mount. The thick confers heaviness adding a 300gr substrate in between the pages. The rigid looks massive, linear, classy.
Block side printing
You can make your book even more special, printing the block sides of any RGB colour to create an interesting pattern with the cover and/or the box material. You could also push it even further, creating an artwork, a text, anything to make it creative an unique.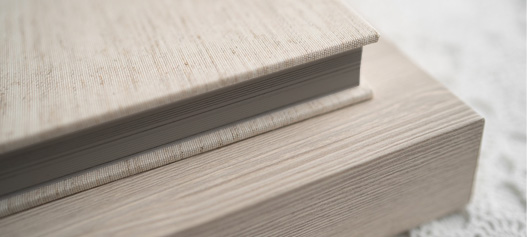 Linings and lux linings
Aside the classic high quality, timeless black board you can add a special touch to the volume, featuring one of the 18 different colours between matte and brilliant shades of linen.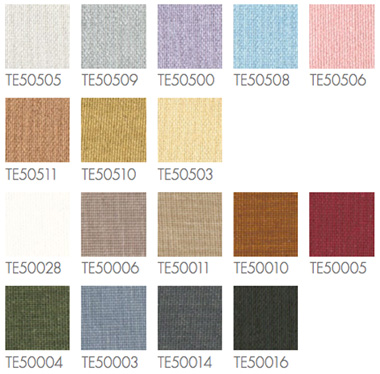 Smaller copies, happier clients!
Have you ever considered to complete your package with beautiful smaller copies of the main album, ideal for bride and groom parents, witnesses, friends and much more? The amazing variety of formats, bindings, papers and even cover upgrades gives you endless possibilities. Best part: you don't need to do anything! We take care of it, using the same layout you provide for the main volume. No stress, just extra profit and happier clients.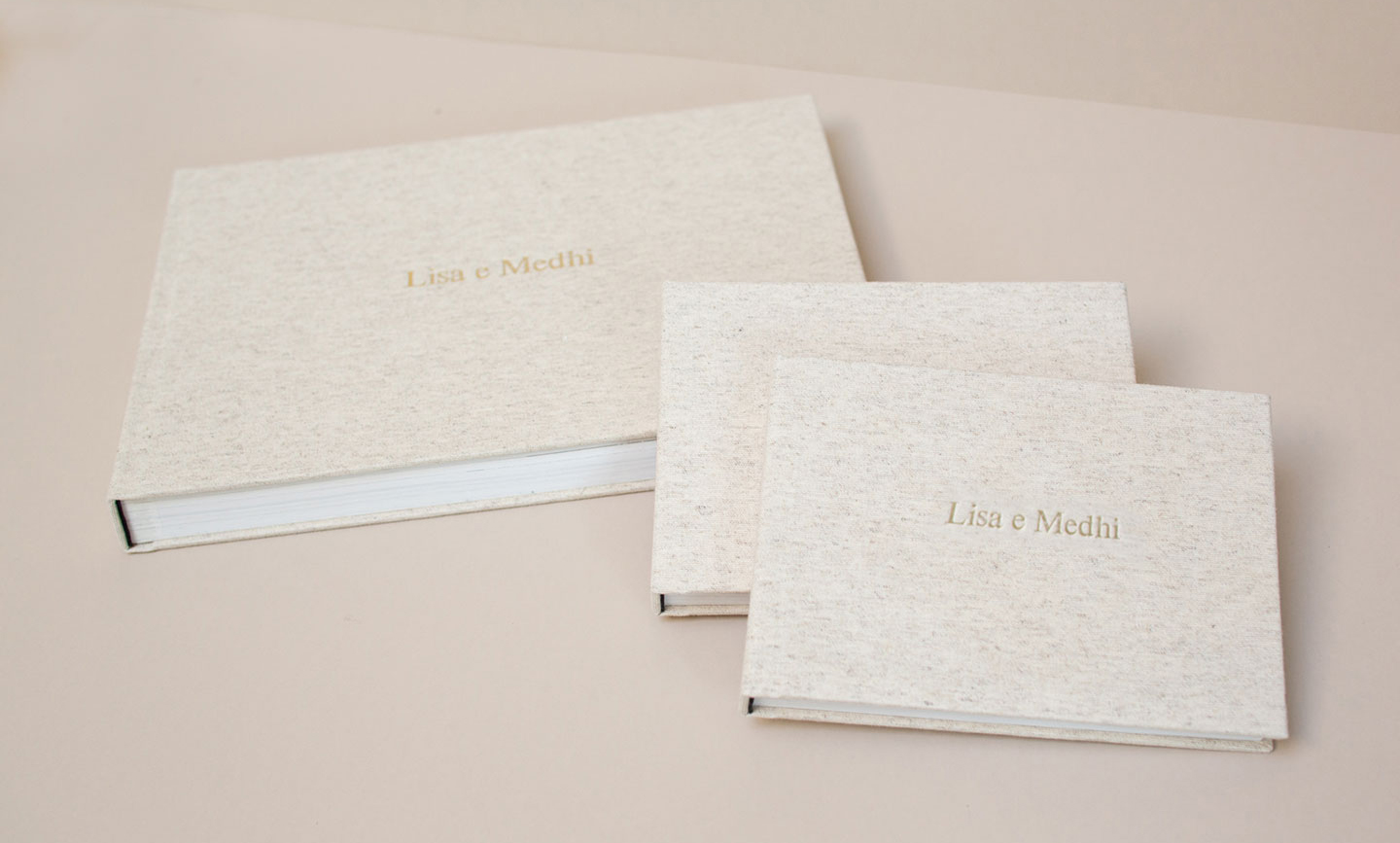 Parent books
Flush mount (continuous binding) 4×5" (10x13cm), 6×8" (15x20cm), 8×12" (20x30cm) vertical, square and landscape.
Pocket books
Perfect bound: 2×2.5" (4x6cm), 2.5×4" (6x10cm), 4×5" (10x13cm) vertical, square and landscape.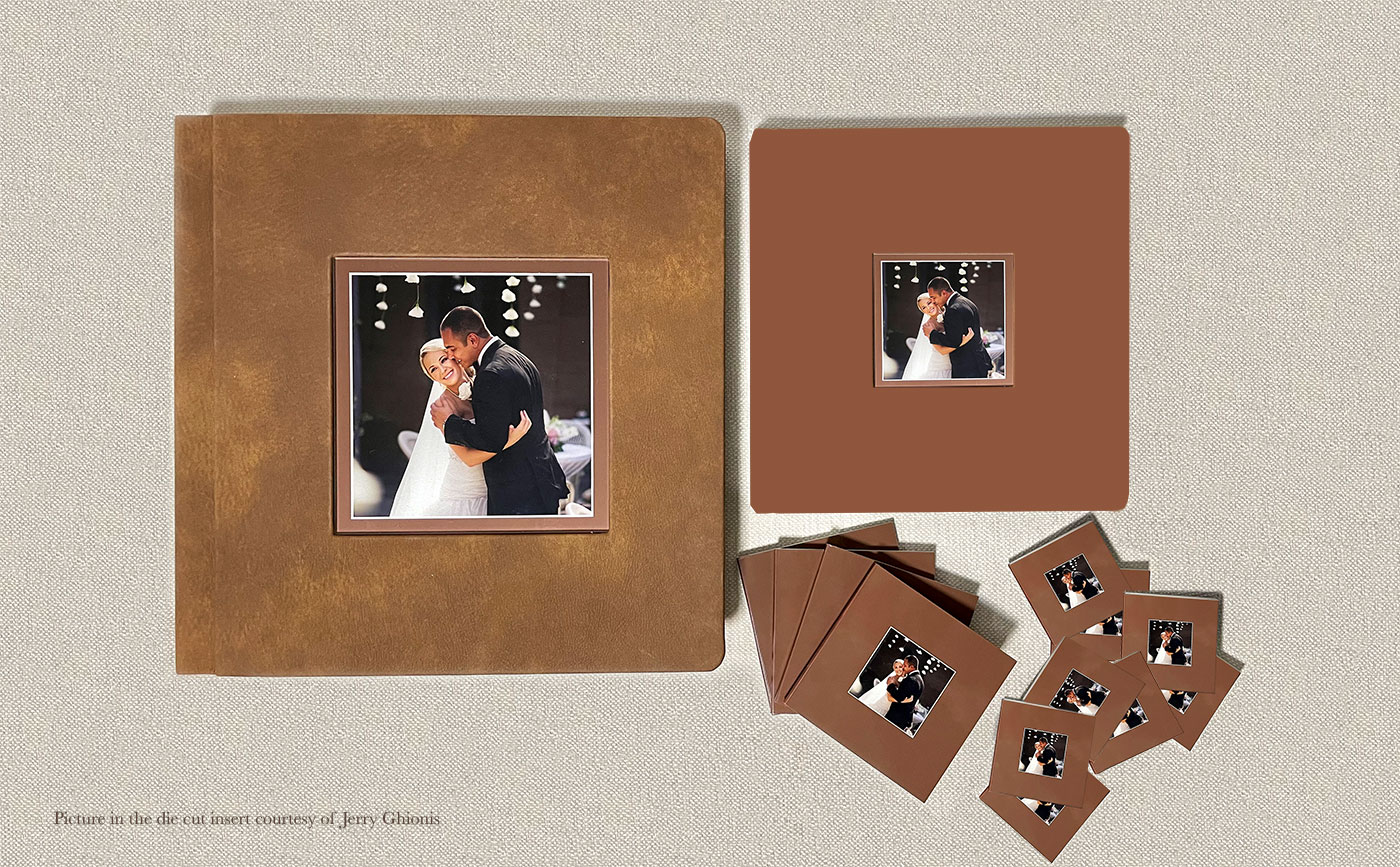 Model shown:
– 1pc 14×14″ Die Cut Large Cover, Sequoia premium leather SE4001
– 2pcs 8×8″ Parent Book copies, with leather upgrade cover
– 4pcs  6×6″ Pocket Book perfect bound
– 8pcs 4×4″ Pocket Book perfect bound