Sustainability
Respecting the planet, aiding life.
Our commitment to sustainable development aims to reduce our environmental impact, promote social equity, and ensure sustainable models of production, innovation, and consumption. Our ultimate objective is to continually decrease our CARBON FOOTPRINT year after year as we work towards the Green Deal of 2030. To achieve this, we are channeling our efforts into clean energy investment, recycling initiatives, resource conservation, and the promotion of innovation. By adopting cutting-edge technologies and incorporating organic and recycled materials, we strive to achieve optimal results. Through these measures, we hope to make a positive contribution to a better world for future generations.
OUR COMMITMENT
OVER THE YEARS
From the very beginning, our aim has been to foster a more responsible printing industry. Hence, we have chosen this platform to showcase our endeavors and prove the authenticity of our dedication.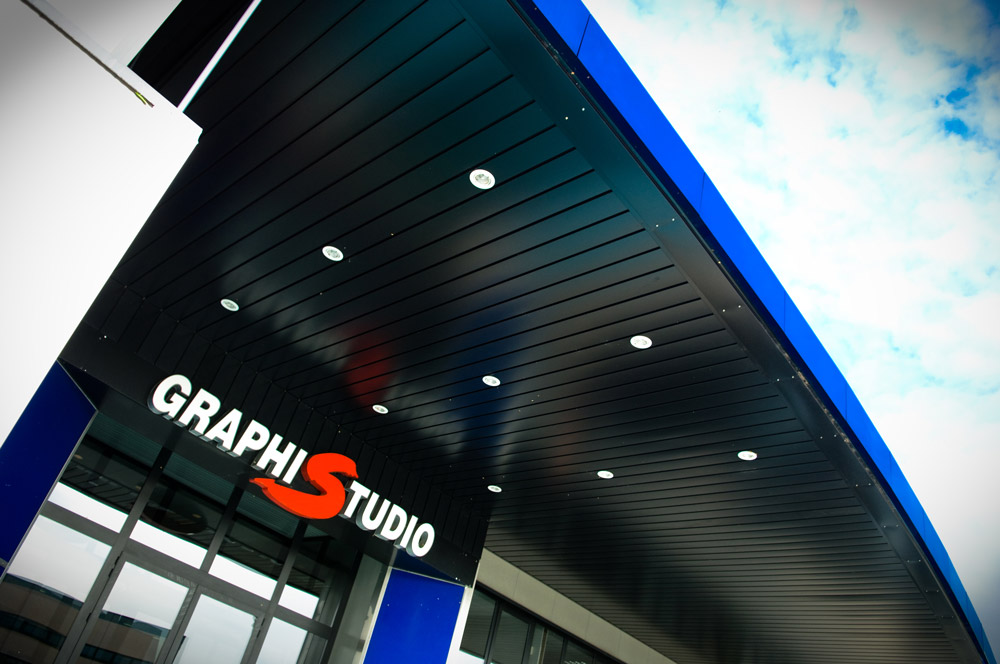 OUR BUSINESS MODEL
Graphistudio, an Italian brand of printing products for professional photographers, was established in 1981 by Tullio Tramontina, Maurizio Corazza, and Enzo Piazza. All our products are meticulously designed, printed, and manufactured at our headquarters in Italy, utilizing premium materials such as leathers, papers, and fabrics sourced from Italian companies that uphold sustainable production practices. Our unwavering objective is to offer products entirely made in Italy, ensuring a minimal Co2 environmental impact.
To serve a global clientele, we distribute our products worldwide through our website and sales representatives operating in England, France, USA, and Australia. In 2008, Graphistudio acquired and restored Castello Ceconi along with the surrounding forest spanning 1,000,000 square meters of ancient woodland area. Here, we host photography workshops led by world-renowned photographers and organize activities and events aimed at benefiting and enhancing the local community.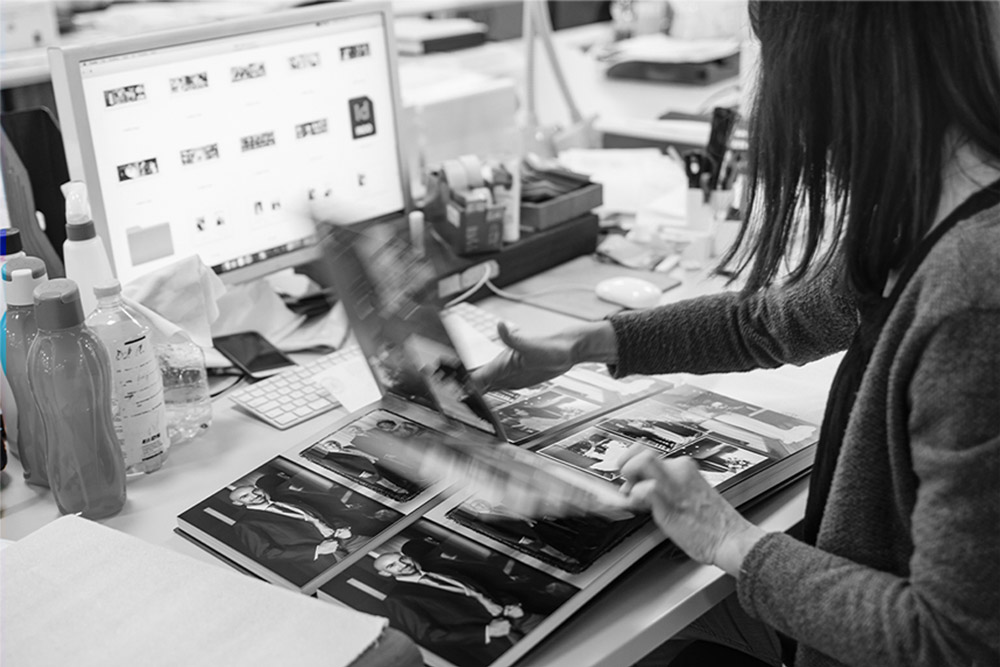 Throughout its history, Graphistudio has consistently upheld a policy of equity when it comes to hiring staff, firmly embracing the belief in the capabilities of each individual, irrespective of gender or nationality. As of today, Graphistudio proudly maintains a predominantly female workforce in its production departments, and the representation of women in decision-making roles is steadily on the rise.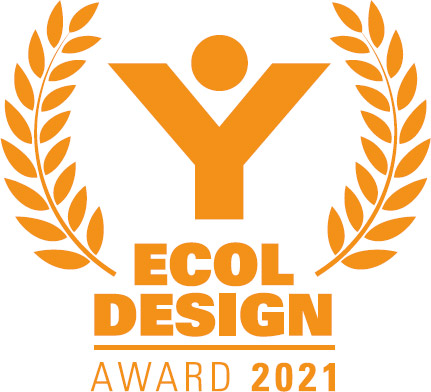 WE ENSURE SUSTAINABLE MODELS OF PRODUCTION, INNOVATION AND USAGE
Throughout the years, we have consistently pursued a culture of innovation by dedicating resources to renewable and cutting-edge technologies, enabling us to deliver products of unparalleled quality. Among our latest advancements is HD printing, which not only offers the highest printing precision available in the market but also boasts the lowest environmental footprint. By utilizing water-based inks completely devoid of harmful chemicals, this printing technology stands as an eco-friendly solution. Furthermore, the printer operates with remarkably low energy consumption and optimizes raw material usage, minimizing waste generation and solidifying its position as the most environmentally conscious printing technology to date.
Graphistudio has put into action a waste recovery initiative, streamlining the production cycle to minimize the amount of waste generated during manufacturing processes. We have long incorporated recycling bins in various departments to facilitate the reuse of materials like paper and plastic. Furthermore, our industrial waste undergoes proper management by a certified and regulated specialized unit known as RECYCLA. This unit adheres to circular economy principles, treating, disposing of, and reclaiming waste. Our unwavering dedication to environmental responsibility earned us a badge in 2021, awarded by RECYCLA, acknowledging our commitment to adopting eco-efficient models.
WE WANT TO REDUCE CARBON EMISSIONS
BY INVESTING IN RENEWABLE ENERGY
Climate change is now an undeniable reality, and each of us has a responsibility to contribute towards minimizing the impact on the environment. As a company, we strive to reduce energy waste by utilizing renewable energy sources to decrease energy consumption. Graphistudio relies on an independent organization that guarantees the origin of energy from natural renewable sources in the Italian Dolomites through the issuance of specific certificates with traceable origins. In 2020, through the utilization of this entity, Graphistudio prevented the emission of 413,885.3 metric tons of CO2.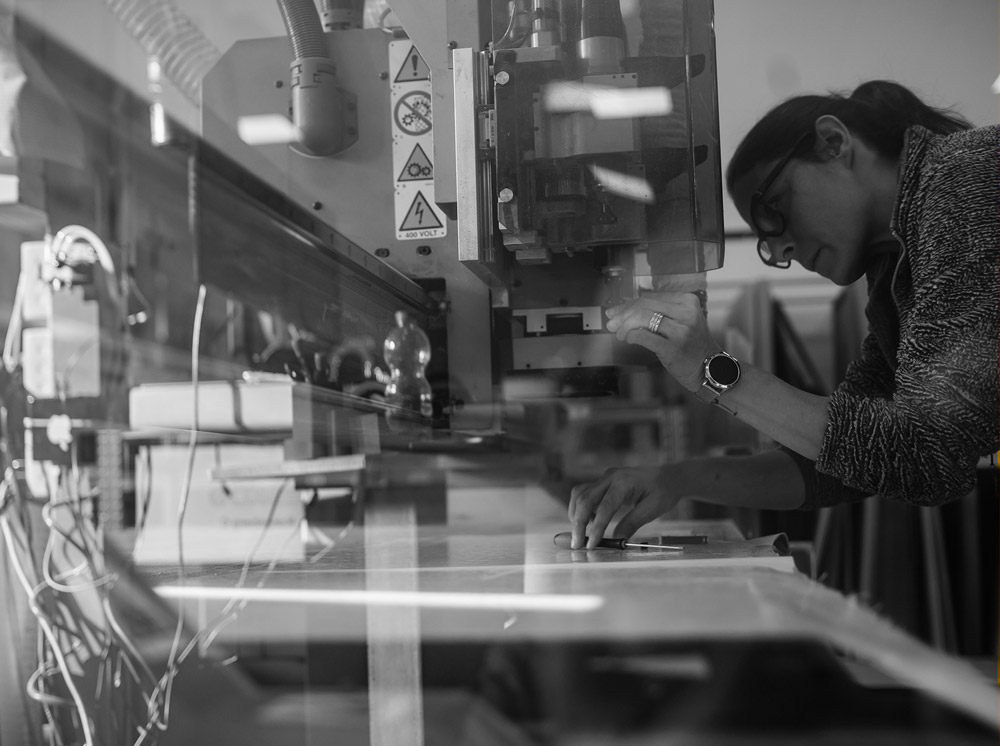 Graphistudio takes great pride in the caliber and dedication of its workforce, comprising over 100 employees, with 70 percent of them being women. Throughout its history, the company has always embraced the significance of female representation in its staff. In light of this, the company has opted for a proactive approach by introducing flexible working hours, aiming to accommodate families and enhance work-life balance for all employees.
We cultivate a culture centered on collaboration and personal development, emphasizing the core values of kindness, cooperation, and empathy. Our aim is to encourage an open exchange of ideas and create an environment where our employees feel genuinely supported and empowered.
Our staff consists of people who live in the areas surrounding our company to whom we guarantee gender equity and unwavering support for all types of disabilities.
CECONI FOREST, a protected green lung
OF 1.000.000 sq. m.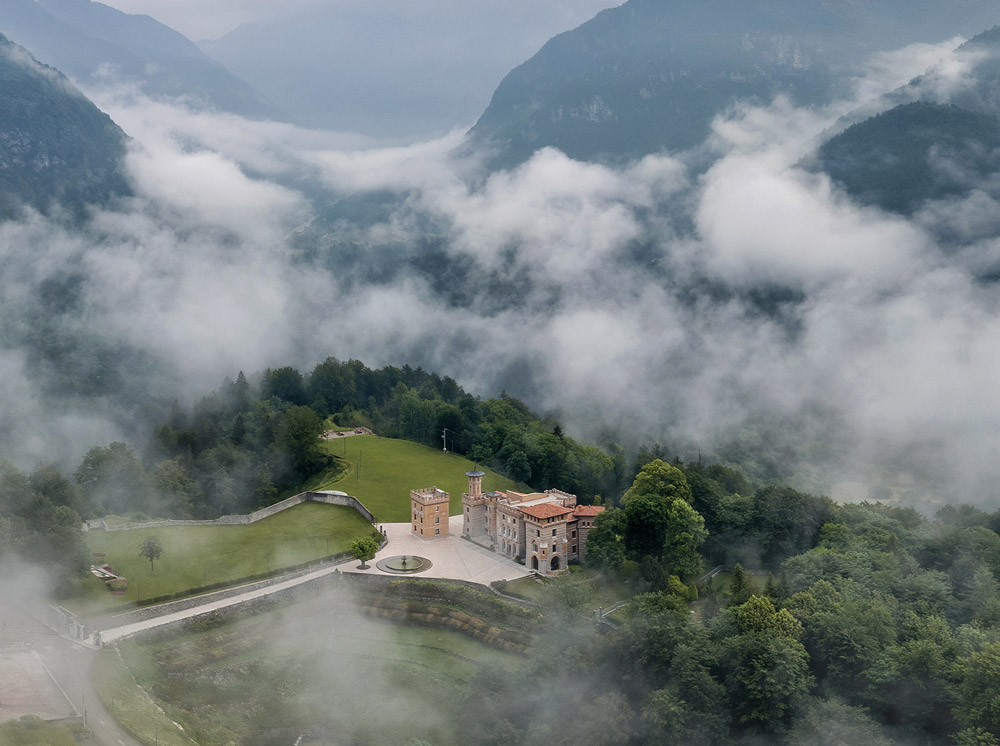 The Ceconi Forest is an extensive wooded area owned by Graphistudio, located in the Val D'Arzino in northern Italy, at the foothills of the Carnic Dolomites. Surrounded by the Arzino stream and stunning trails, it stands as a pristine natural haven, considered one of Europe's most beautiful sites. Our mission is to preserve this area, safeguarding it from deforestation and ensuring the preservation of its flora and fauna, maintaining the untouched beauty of this natural paradise over time.
In 2008, we acquired the Ceconi Castle, a structure dating back to the early 1900s, previously owned by Count Giacomo Ceconi, the man responsible for constructing major railway connections between Italy and Austria. Restoration efforts spanned 5 years, carefully preserving the original appearance of the building and meticulously recovering ancient frescoes. This enchanting place, nestled in a majestic mountain backdrop and away from urban centres, eagerly awaits visitors to experience its magical charm.
THE HOME OF ALL THE PHOTOGRAPHERS
Ceconi Castle serves as a home for all photographers, offering a space for acquiring knowledge, unleashing creativity, and sharing experiences through the Accademia Ceconi. Throughout the year, the castle hosts photography workshops conducted by the world's most renowned wedding and portrait photographers, open to all professional photographers. It provides an opportunity for photographers to learn, grow, and exchange ideas in a place where creativity thrives.
The castle is a magical place, captivating tourists' attention and becoming an essential stop for visitors. To revitalize the mountain areas, the castle hosts a variety of entertainment events, including concerts and open-air theaters, as well as diverse gatherings such as charity dinners in support of organizations like the Red Cross.
TOWARDS MORE RESPONSIBLE
MATERIALS AND TECHNOLOGIES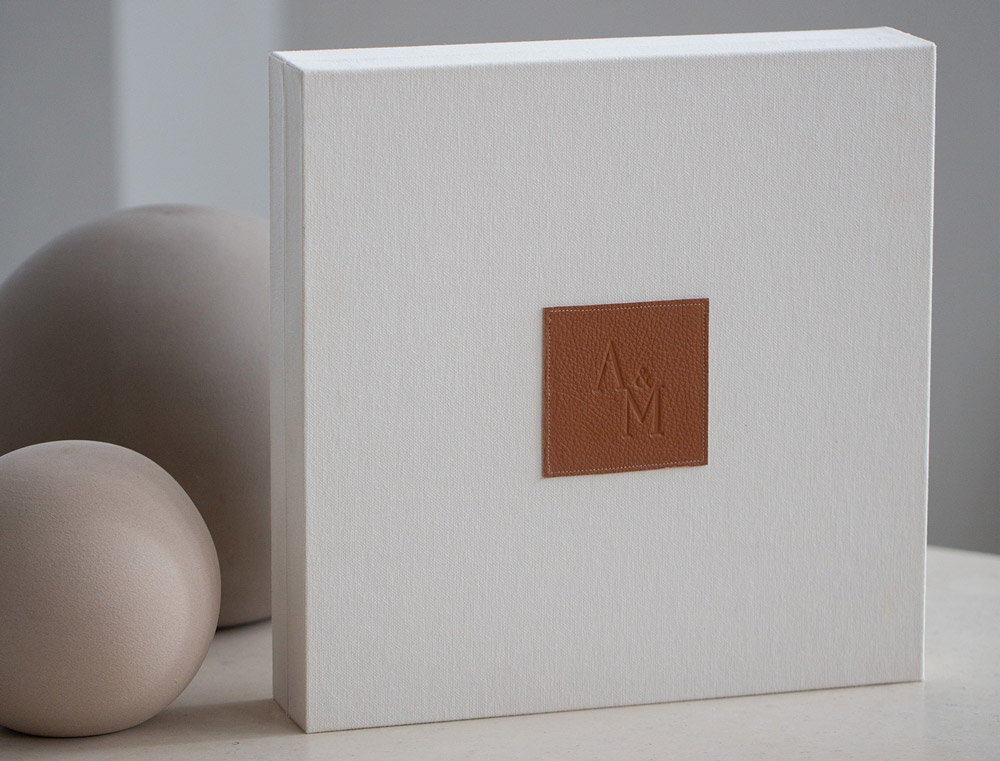 Graphistudio has always strived to incorporate more sustainable materials and work towards a more responsible industry, all without compromising the quality of our products. In this pursuit, we have made a conscious effort to collaborate with suppliers who have a proven track record of sustainability. Together with them, we have identified opportunities and taken steps to reduce the environmental impact of their operations, ensuring sustainable production processes for our raw materials. Our quest for sustainability continues as we introduce materials that meet sustainable criteria, aiming to promote a circular economy, progress towards a more responsible industry, and meet the demands of our customers.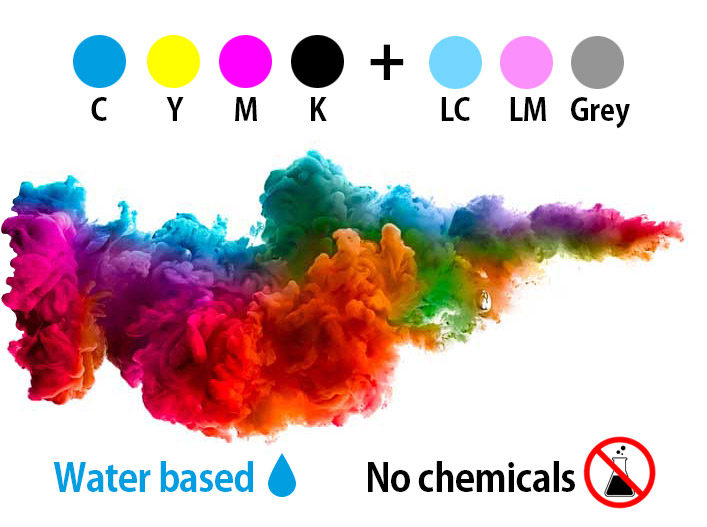 HD PRINTING, A REVOLUTIONARY AND SUSTAINABLE TECHNOLOGY
The HP Indigo printing process is INTERTEK certified, ensuring it is free from harmful substances to the environment and health, such as heavy metals and aromatic amines. This liquid electrophotographic digital printing (LEP) process eliminates the use of many hazardous substances typically found in offset printing, while still maintaining the look and feel of offset printing. Moreover, our ink cartridge recycling program and Binary Ink Developer (BID) parts retrieval and reuse program ensure environmentally-responsible recovery and treatment of used supplies.
In collaboration with our partner Canon, we have been actively promoting sustainability since 1988, driven by their Kyosei corporate philosophy. This synergy has led to remarkable achievements, such as the DreamLabo machinery, setting the highest standards for environmentally friendly digital printing. Additionally, Canon leads the world in using biologically-based plastics for external parts in their machinery.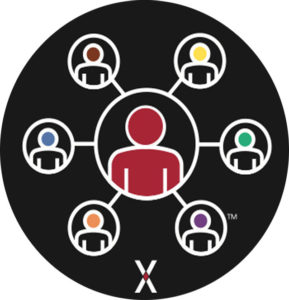 Graphistudio has consistently prioritized environmentally conscious suppliers with a high level of Corporate Social Responsibility (CSR). Our partners are required to utilize sustainable materials and employ sustainable production practices to collaborate with us.
In this regard, we have made a deliberate effort to collaborate with suppliers who have a history of sustainability, even before setting smart goals for the future. We have worked closely with them to identify opportunities for reducing their environmental impact and ensure they adopt measures to further minimize it whenever possible.
Moreover, we hold a special regard for small artisanal businesses. As Graphistudio was born as an artisanal company and has maintained its craftsmanship over time, we aim to support others on their journey as well. Thus, we actively extend our support to these businesses in their endeavors.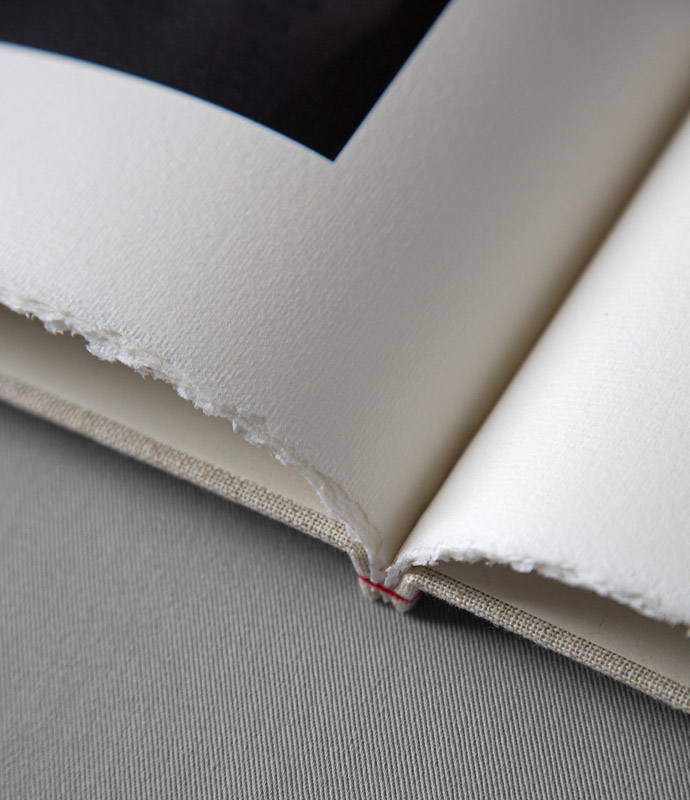 organic and recycled materials
PAPER
Our paper is 100% FSC (Forest Stewardship Council) and PEFC (Programme for the Endorsement of Forest Certification) certified, ensuring its sustainable sourcing. It boasts a significant proportion of recycled pulp and is entirely free from pollutants. Our suppliers lead the way in sustainability, with an impressive 97 percent of clean water returned to the environment and a remarkable 86 percent of waste recovered, reflecting their commitment to environmental and water conservation.
The Amalfi paper, crafted from old rags during a time when nothing was considered waste, exemplifies the harmonious blend of craftsmanship and recycling practices that has endured for centuries. This paper serves as an excellent testament to the legacy of recycling and sustainability in the field of paper-making.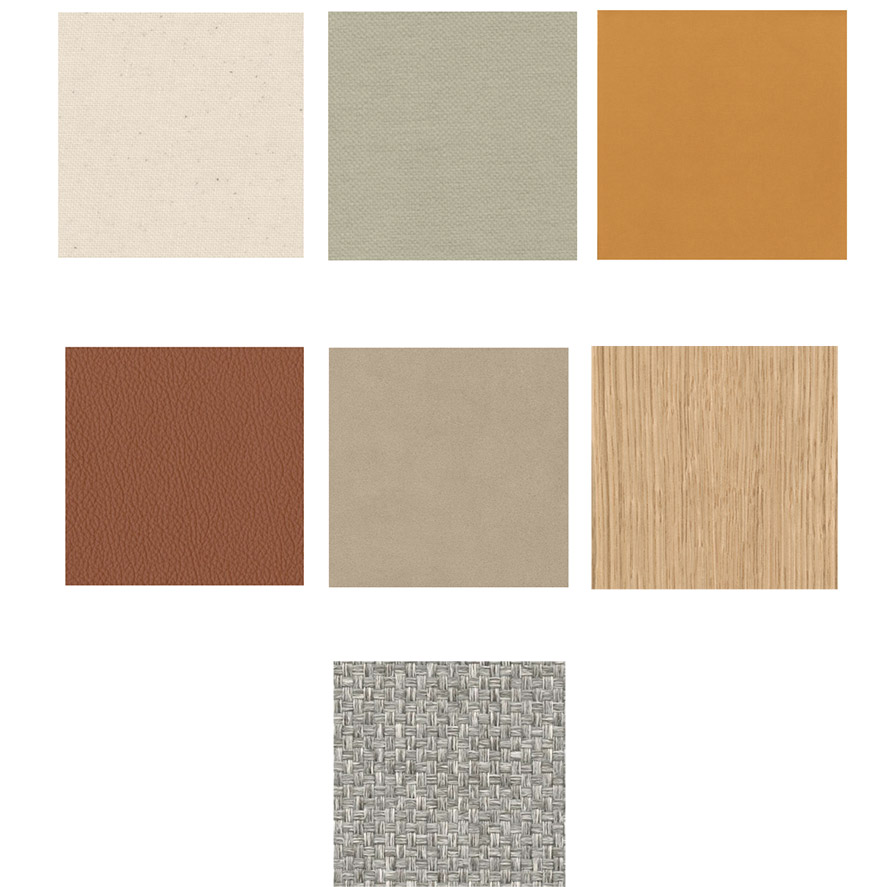 Fabrics
Graphistudio meticulously selects the finest certified fabrics (OEKO-TEX, Cradle-to-Cradle, GRS, EcoVero, and GOTS), prioritizing those that adhere to high standards of quality and sustainability. We opt for organic or recycled yarns with low or neutral carbon footprints, ensuring our commitment to environmentally friendly choices.
High-tech coverings
In addition to natural coverings for books and boxes, we carefully choose other materials to offer aesthetic elegance combined with the latest solutions in terms of efficiency and eco-friendliness. We prioritize recycled and recyclable materials, as well as eco-leathers made from organic by-products. Our progress serves the cause of Planet Earth, driven by a commitment to its preservation rather than exploitation.
Natural leathers
The by-products of the food industry become a valuable resource instead of waste. Recycled, traceable, and produced with zero emissions, our Italian leathers ensure a minimal environmental impact, reducing greenhouse gases that would otherwise result from intensive farming practices.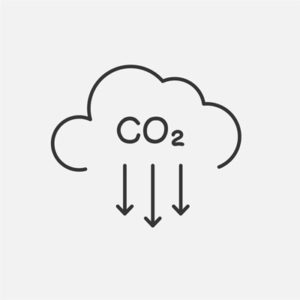 To generate electric kilowatt-hours, fossil fuels are burned, leading to significant CO2 emissions into the atmosphere. We have opted to utilize energy sourced from renewable sources, thereby contributing to the enhancement of our environment and ensuring a better future for all. By relying on "100% Clean Energy Dolomiti Energia," we averted the release of 413,885.3 metric tons of CO2 in 2020.
With a single production site in Italy, we not only preserve tradition, but also reduce emissions that could result from multiple factories around the world or outsourcing production steps to third parties. By delivering our products directly from our headquarters, we drastically reduce CO2 emissions.
Furthermore, we ship our products in recyclable packaging that, when properly selected, can be recycled in endless cycles. Moreover, we are continuously committed to providing our customers with innovative and more ecologically friendly solutions, consistently pushing the boundaries of sustainability.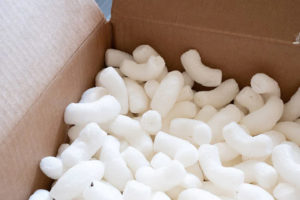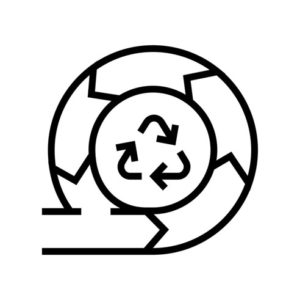 environmentally conscious packaging
Regarding our Wall Art product range, we have innovated a completely sustainable packaging design, capable of safeguarding large Wall Art pieces even during international shipments. Our upcoming objective in packaging is to entirely remove plastic and implement sustainable measures while ensuring adequate protection for the product.
SUPPORTING THE LOCAL COMMUNITY
OUR COMMITMENT TO SUPPORTING INITIATIVES
OF OUR TERRITORY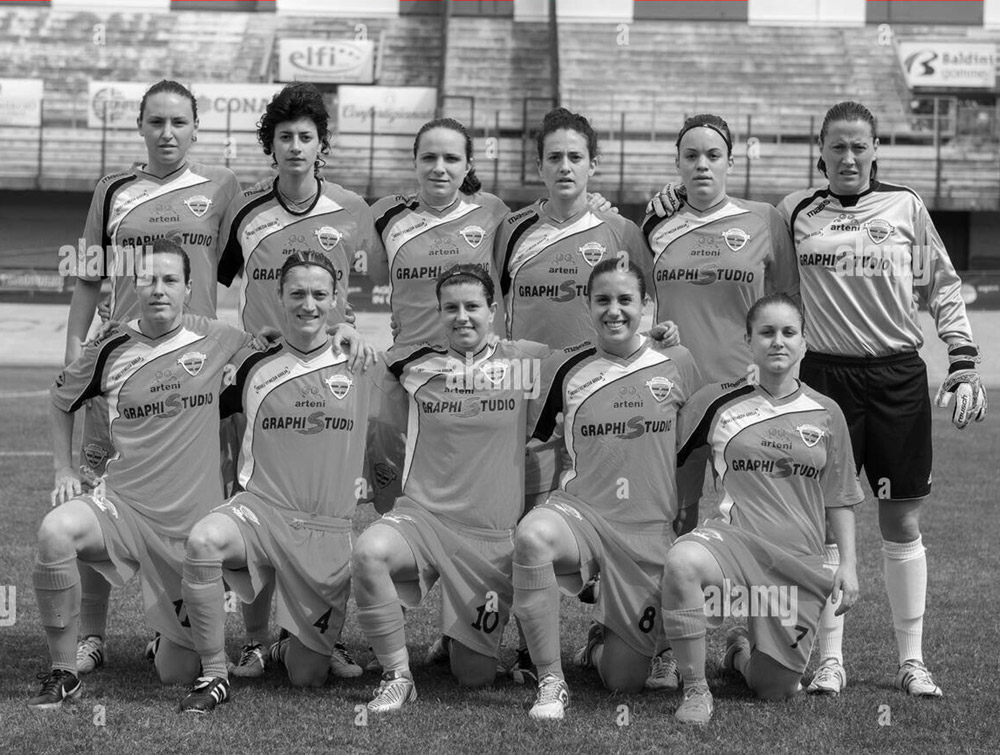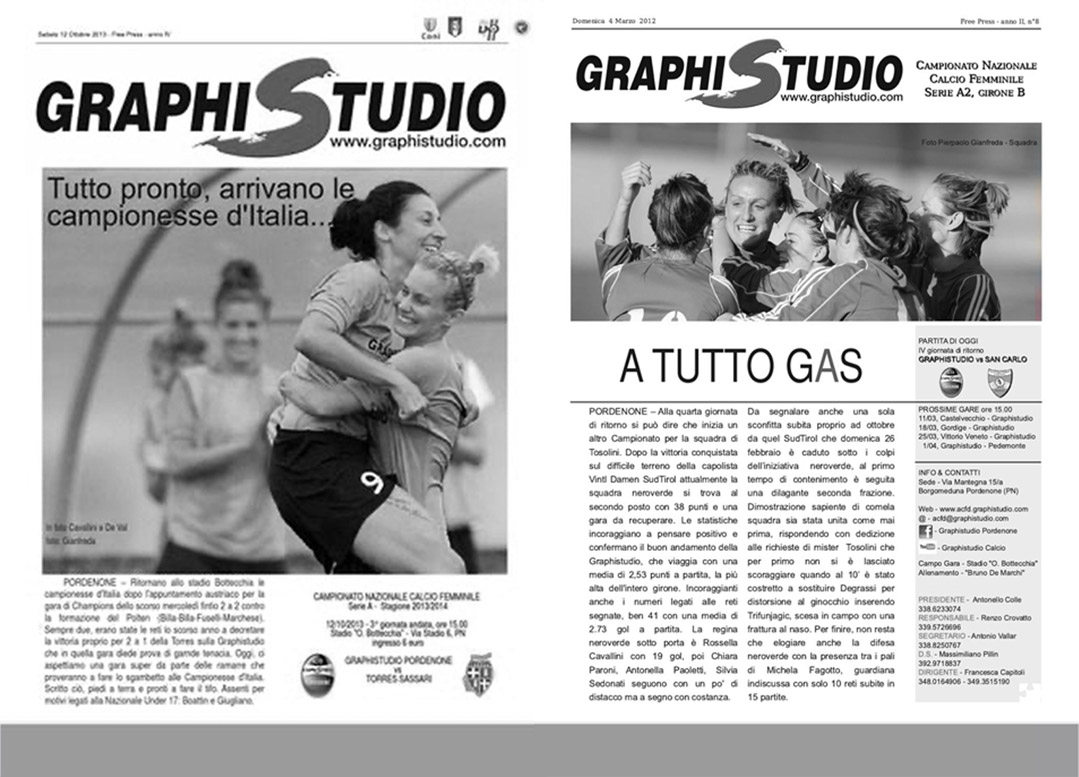 For numerous years, Graphistudio has provided backing to female soccer squads within the Friuli Venezia Giulia region. The Graphistudio Tavagnacco and Graphistudio Campagna teams accomplished significant football achievements, even reaching the Serie A tier. During that period, this represented an exceedingly crucial benchmark for our region, as women's soccer started to garner increased earnestness not solely from other local sponsors, but also in a more resolute manner from sports organizations.

We firmly believe that supporting charitable organizations can always make a difference and have a positive impact on the entire community. In 2023, we hosted a charity dinner at Castello Ceconi in collaboration with the Italian Red Cross, and the proceeds were allocated towards purchasing a new ambulance for the Pordenone committee.
THE PASSION
We are passionate about imagery, photography, and art. We infuse our work with passion because we aim to elevate and celebrate the essence of every image.
GROWING TOGETHER
We empower our team members to make autonomous decisions and take ownership of their actions. Our commitment to teamwork fosters a positive work environment, where collaboration and a positive attitude are highly valued.
AWARENESS
We aspire to be a brand with a positive social, economic, and environmental impact. We closely collaborate with our sales representatives to align our progress with that of our community.
A CREATIVE MINDSET
To us, creativity means finding solutions to diverse questions. It's how we tackle challenges and our commitment to being a long-lasting and sustainable company.
ATTENTION TO DETAIL
Born with a culture of beauty, high quality, and craftsmanship, it runs in our blood; we cannot do without it. Every detail is carefully chosen to ensure absolute perfection.
CUSTOMER-FIRST APPROACH
We recognize that success, at any level, is directly tied to the satisfaction of our customers. Therefore, we foster a culture where our clients are at the heart of every decision we make