Acrylic Pro
The Professional choice in home decor
Colori vibranti, dettagli mozzafiato. I nostri pannelli in acrilico ultra trasparente restituiscono grande fedeltà di stampa rispetto alla ricchezza di informazioni dei file odierni. Nessun trucco, nessuna "aggiunta" digitale ma la semplice accuratezza di gestione del colore per un montaggio impeccabile e duraturo tra la stampa fine art e lo strato in plexyglass.
Disponibile sia in finitura lucida che opaca, l'Acrylic Pro raggiunge gamme dinamiche impressionanti. Il retro pannello, disponibile in diverse colorazioni, è ottenuto da un monoblocco rigido e perfetto in ogni
sua parte, con spigoli e angoli precisi al millimetro.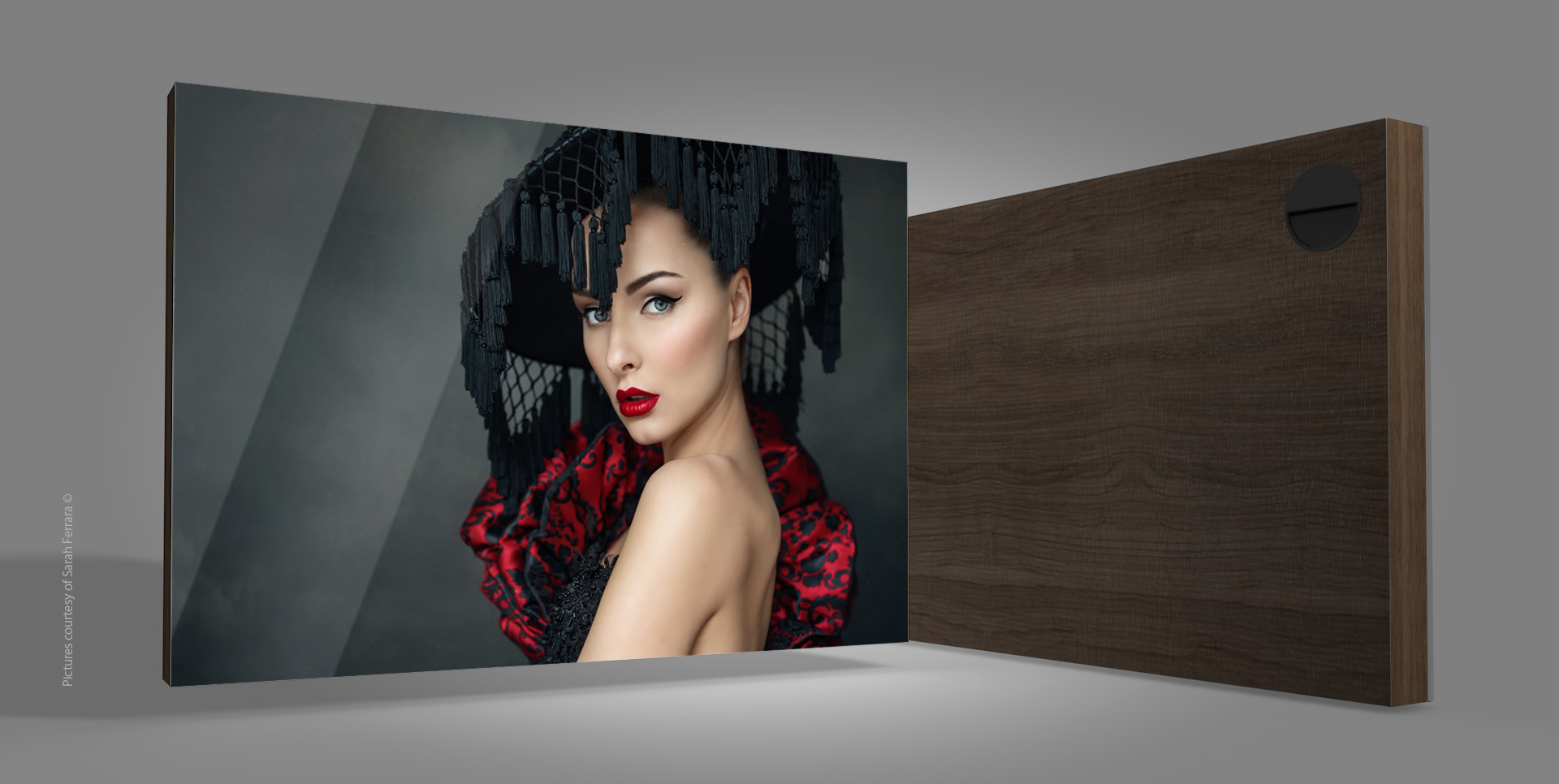 FINISHING:
Glossy or Matte.
PANEL FINISHING:
Wood fiber, Touch, Brilliant Linen, Matte Linen, Maple.
PRINTING TECHNOLOGY:
Ink jet printing with 12 fine art inks.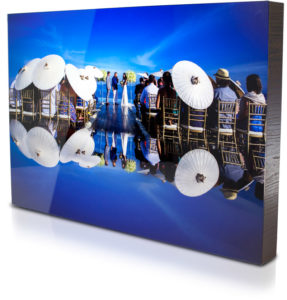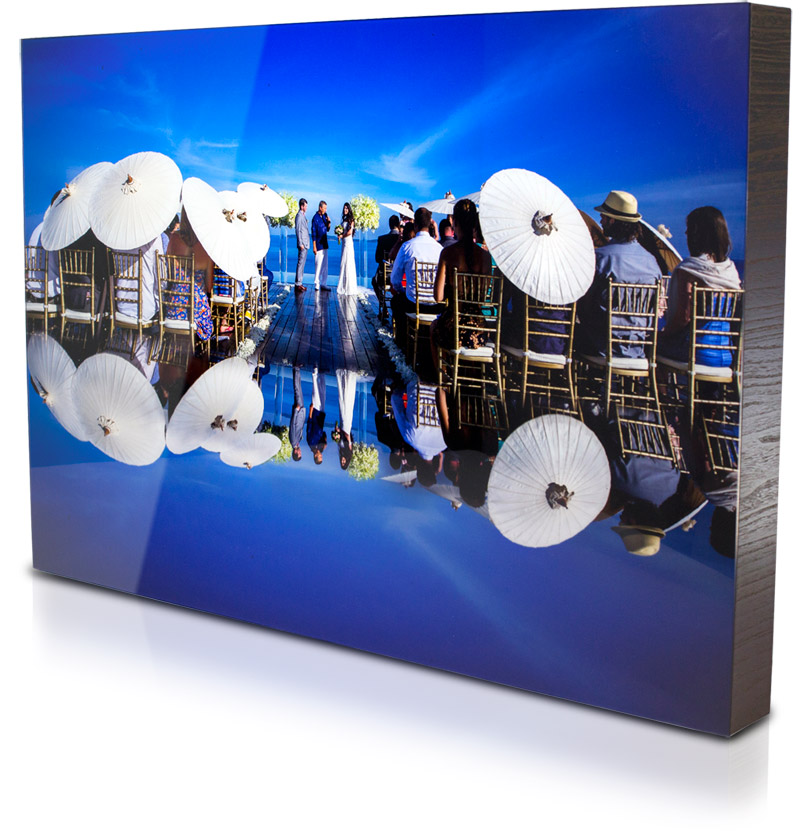 Picture courtesy of Two Mann Studios ©

PANEL:
Seamless unibody wooden panel with 3D molded hanger.
THICKNESS:
2.3" or 1.2" thickness (6 or 3 cm).
OPTIONS:
Optional certificate overprinting on the back.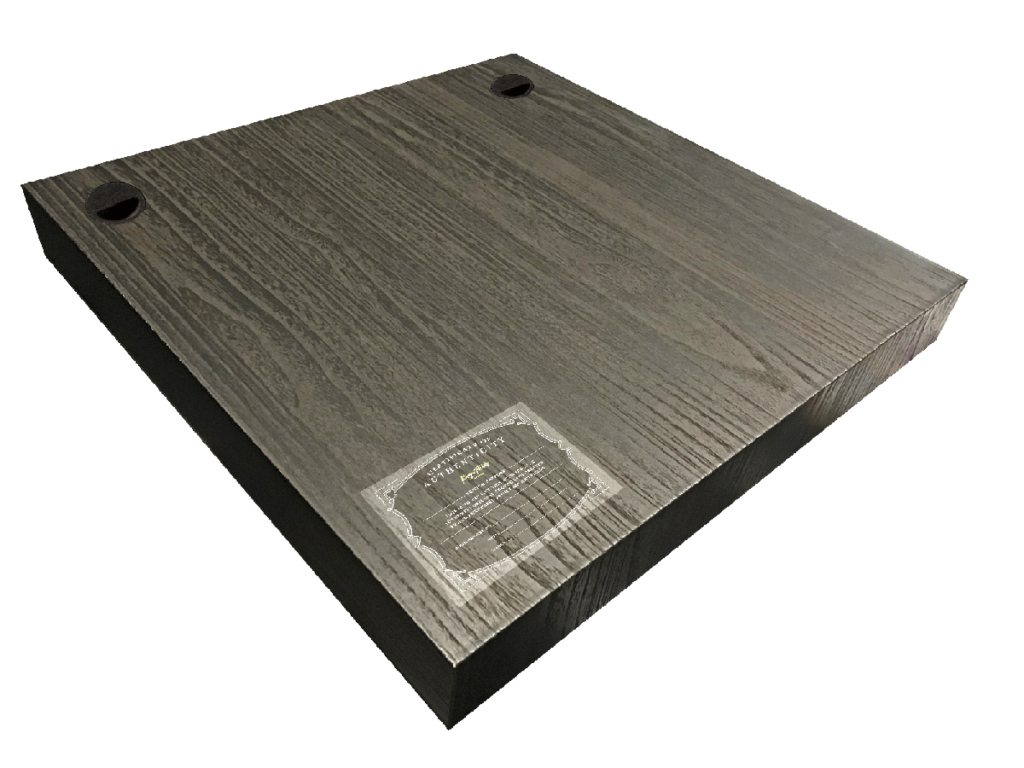 Completely finished for pure beauty from every angle.
You can identify a professional by their attention to detail. With a brand new clean design, with no visible mounting elements, our wall art makes photography enjoyable as never before. The meticulous precision to detail ensures the wow effect. Anything else on your clients walls will pale in comparison!
Accurate and easy to hang.
Grazie agli speciali elementi in polimero stampato a 3D, appendere un wall art non è mai stato così facile!
Per la prima volta è stato sviluppato un prodotto irresistibile da guardare,
da ogni punto di vista. Il livello di finitura incredibile del retro pannello rende giustizia alla richiesta di qualità totale, sempre più imprescindibile
per i professionisti del settore fotografico.
The widest choice of premium materials
At Graphistudio we believe in perceived quality. That's why our choice of materials and colours offers the best in terms look and feel, either in case of genuine italian leathers or vegan-leathers, as well as natural fibers.
This is not just the broadest catalogue, it's the greatest added value to your creative ideas.
Maple
The Maple is a 100% viscose material that enhances the intensity of the vivid colours. The life-like wood grain reproduced on the surface is easy to clean and resistant to wear.
Available in 21 colours.
Wood Fibre
This extremely mouldable material, obtained from a mixture of cellulose and wood pulp, perfectly combines the natural look with durability and the lightweight offered by synthetic materials.
Available in 4 colours.
Two finishes, one result: excellence.
Disponibile sia in finitura lucida che opaca, Acrylic Pro raggiunge delle gamme dinamiche impressionanti. Sia che preferiate il gioco di luce e di riflessi di una superficie perfettamente lucida o la purezza di un'immagine protetta dall'antiriflesso, Acrylic Pro valorizzerà al massimo le vostre immagini.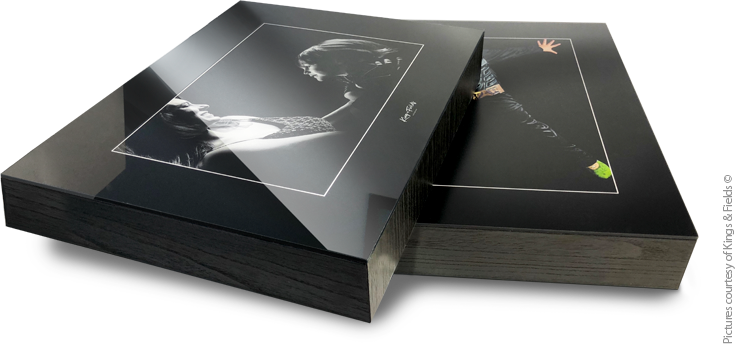 Perfect mounting for a one-of-kind design
With its clean and elegant lines, Acrylic Pro is the combination of top quality materials and state-of-the-art inkjet printing.
The mounting, perfect in every part, gives this product a premium look, worthy of a professional photographer.
Stampa a getto d'inchiostro con 12 inchiostri per belle arti Preparati ad ammirare la gamma di colori sulla tua stampa! La ricchezza di dettagli e l'accuratezza dei colori è esattamente come la immaginavi sul tuo monitor. Un centinaio di anni di longevità garantita.
Acrilico di altissima qualità Lo spettacolare effetto visivo è ottenuto combinando la stampa con una lastra acrilica estremamente trasparente di 1/8 di pollice di spessore. Resistente e inalterabile, questo acrilico è disponibile con una finitura lucida o opaca antiriflesso.

Pannello di legno unibody senza cuciture ad alto impatto La poesia delle tue immagini merita molto di più di una semplice cornice di legno di abete grezzo. Il pannello di legno unibody, progettato per i nostri Wall Art, offre bellezza e pura classe a tutta la tua opera d'arte. Finalmente il giusto supporto per i tuoi capolavori fotografici!
Strato adesivo trasparente invisibile ma essenziale, grazie a questo strato, la vostra splendida immagine e il foglio di acrilico che la protegge diventano una cosa sola. Prodotta con un materiale brevettato, questa pellicola è completamente invisibile e senza difetti.
6x6
6x8
8x6
8x8
8x10
8x12
8x24
8.5x11
9x12
10x8
10x10
10x13
10x14
10x15
10x16
10x20
10x30
11x8.5
11x14
11x17
12x8
12x9
12x12
12x16
12x18
12x24
12x36
13x10
14x10
14x11
14x50
14x60
15x10
15x19.5
15x20
16x10
16x12
16x16
16x20
16x24
16x34
16x60
17x11
18x12
19.5x15
19.5x19.5
19.5x42
20x10
20x15
20x16
20x20
20x24
20x30
20x50
20x60
24x8
24x12
24x16
24x20
24x24
24x30
24x32
24x36
25x25
25x60
30x10
30x20
30x24
30x30
30x40
30x45
30x50
30x60
32x24
33x33
34x16
35x45
36x12
36x24
36x36
40x30
40x40
40x45
40x50
40x60
42x19.5
45x30
45x35
45x40
50x14
50x20
50x30
50x40
60x14
60x16
60x20
60x25
60x30
60x40
Custom sizes are also available in the order form online. Enter your Trade Area to learn more.
15x15
15x20
20x15
18x24
20x20
20x30
20x60
21x28
24x18
24x30
25x50
25x100
28x21
28x35
30x20
30x24
30x30
30x40
30x45
30x90
35x28
40x30
40x40
40x50
40x60
40x160
45x30
45x60
50x25
50x40
50x50
50x60
50x70
50x75
50x150
60x20
60x40
60x45
60x50
60x60
60x80
60x90
60x120
70x50
70x90
70x100
70x105
75x50
75x100
80x60
80x80
90x30
90x60
90x70
100x25
100x70
100x75
100x100
100x140
100x150
105x70
120x60
140x100
150x50
150x100
160x40
Custom sizes are also available in the order form online. Enter your Trade Area to learn more.
CERTIFICATO DI AUTENTICITA'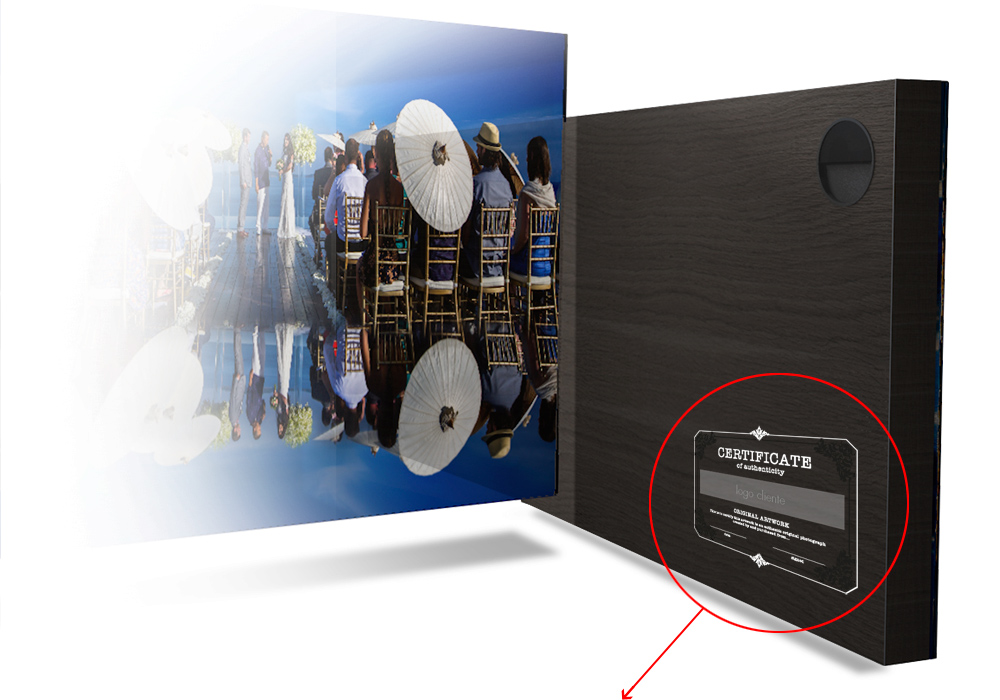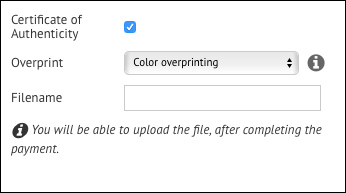 ESCLUSIVO!
Stampa del certificato di autenticità
Aggiungi valore al tuo wall art, con il tocco d'autore del "Certifiato di Autenticità" stampato sul retro.
Ideale per essere firmato in originale dall'autore, il Certificato viene sovrastampato (anche a rilievo come optional) secondo la grafica fornita. Ordinarlo è facile, semplicemente fai l'upload della tua grafica in formato png, durante la sessione FTP al termine dell'ordine.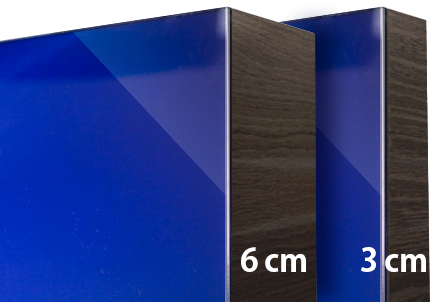 Two thicknesses allow your masterpiece to stand out!
Disponibile in due generosi spessori, di 6 e 3 cm, per un effetto scenico di prim'ordine. Il Massive Standout conferisce solidità e consistenza visiva senza gravare sul peso complessivo del pannello.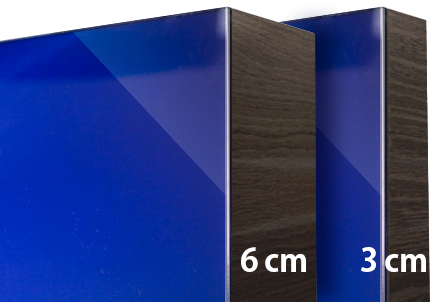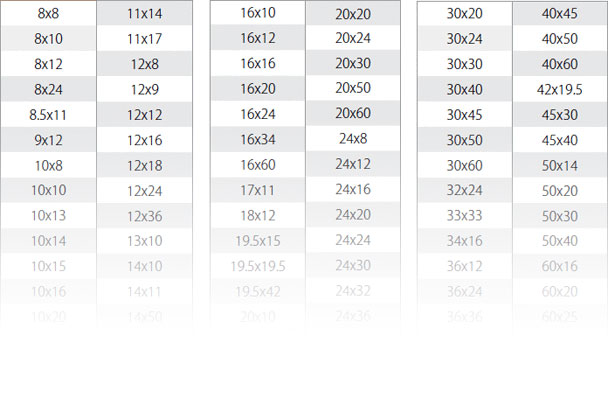 Choose among 92 sizes or directly create your own!
Un fotografo professionista deve sapere definire gli spazi, anche quando si tratta di arredare una o più pareti. I numerosi formati disponibili raccolgono quasi ogni soluzione possibile, ma se proprio hai un progetto particolare, potrai ordinare tu stesso un formato ad hoc!

More from the Wall Art Collection