Linee pure e semplici danno accesso a infinite possibilità di personalizzazione. Composta da tre diversi elementi, ognuno dei quali completamente personalizzabile con diversi materiali e colori, questa scatola si distingue per uno stile marcato e moderno la cui caratteristica principale è l'inserto interno, visibile anche quando la scatola è chiusa. Questo è un elemento che modella il design e armonizza ogni parte della scatola stessa.
Sono disponibili diverse nobilitazioni grazie a tecniche di sovrastampa che rendono ogni Design Box unica e preziosa.
E' disponibile in tutte le misure da 20x30cm a 40x50cm.
Different ennoblements are available thanks to overprinting techniques which make every Design Box unique and precious.
It is available in every size from 8×12″ (20x30cm) to 16×20″ (40x50cm).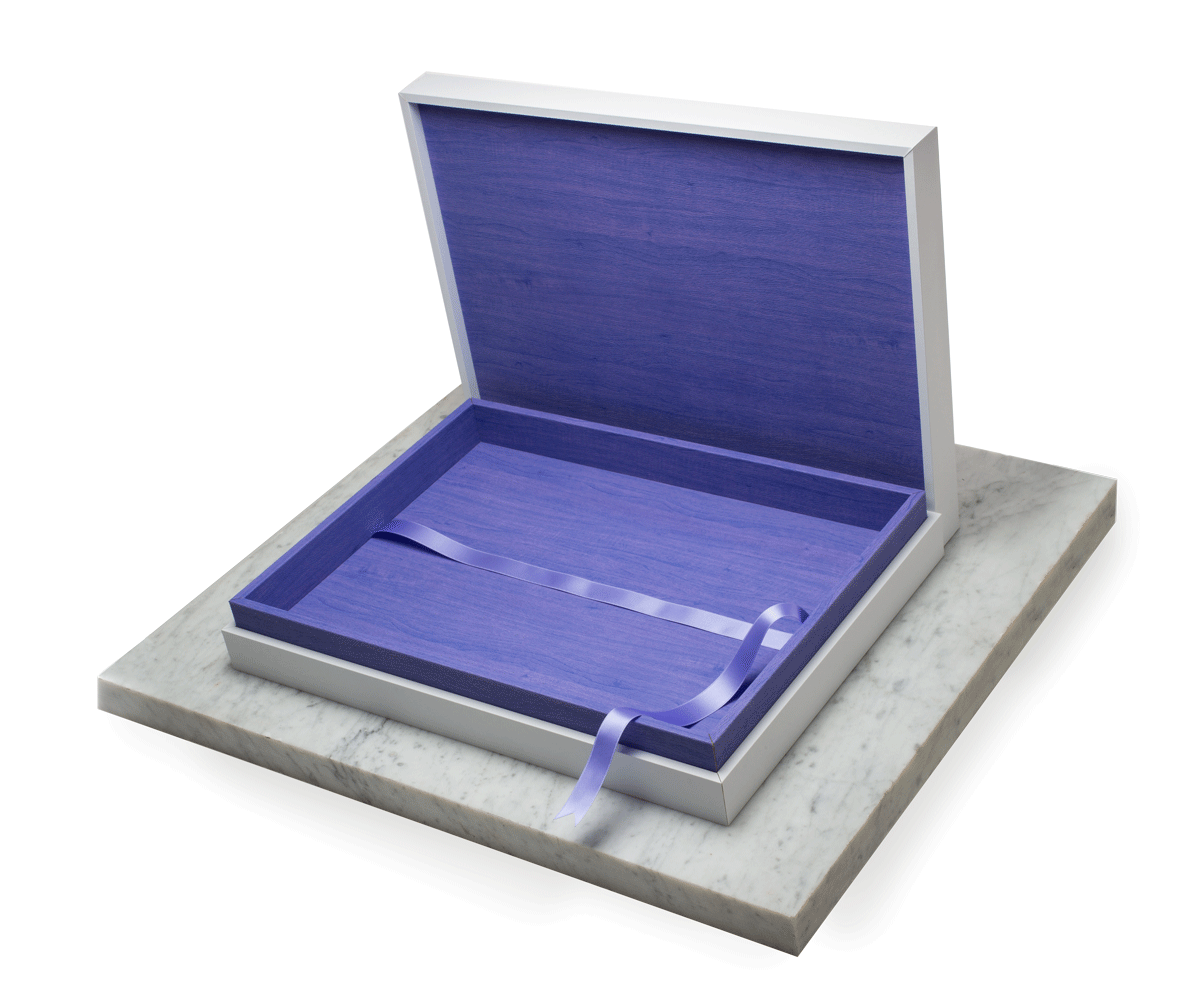 Disponibile per questi formati di libri:
Verticale: 20×30, 25×35, 30×40, 35×45, 40×50 cm.
Orizzontale: 30×20, 35×25, 40×30, 45×35 cm.
Quadrato: 20×20, 25×25, 30×30, 35×35, 40×40 cm.
Nobilitazioni disponibili:
Sovrastampa a colori, vernice a rilievo, lamina a rilievo.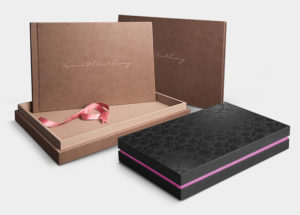 Materiali del coperchio:
Similpelle, similpelle nuvola, acero, carta perlata, touch, tessuto brillante, tessuto opaco, pasta di legno.
Materiali interni:
Similpelle, similpelle nuvola, acero, carta perlata, touch, lino brillante, lino opaco, fibra di legno.
Nastro:
Seta Sateen (28 colori).
Internal materials:
Leatherette, cloud leatherette, maple, pearl paper, touch, brilliant linen, matte linen, wood fiber.
Ribbon:
Sateen silk (28 colors).

La più ampia scelta di materiali premium
Alla Graphistudio crediamo nella qualità percepita. Ecco perché la nostra scelta di materiali e colori offre il meglio in termini di look e feel, sia nel caso di vere pelli italiane che di pelli vegane, così come di fibre naturali.
Questo non è solo il catalogo più ampio, è il maggior valore aggiunto alle vostre idee creative.
Personalizzazione, rendila tua!
Ogni prodotto Graphistudio offre incredibili opzioni per personalizzare la tua opera d'arte. Sia che tu voglia renderla speciale per il tuo cliente o che tu voglia puntare a un branding strategico, puoi scegliere il tuo stile tra:
sovrastampa a colori, verniciatura a rilievo, incisione laser, impressione, lamina a caldo, lamina in rilievo.