27 | 28 | 29 NOVEMBER 2023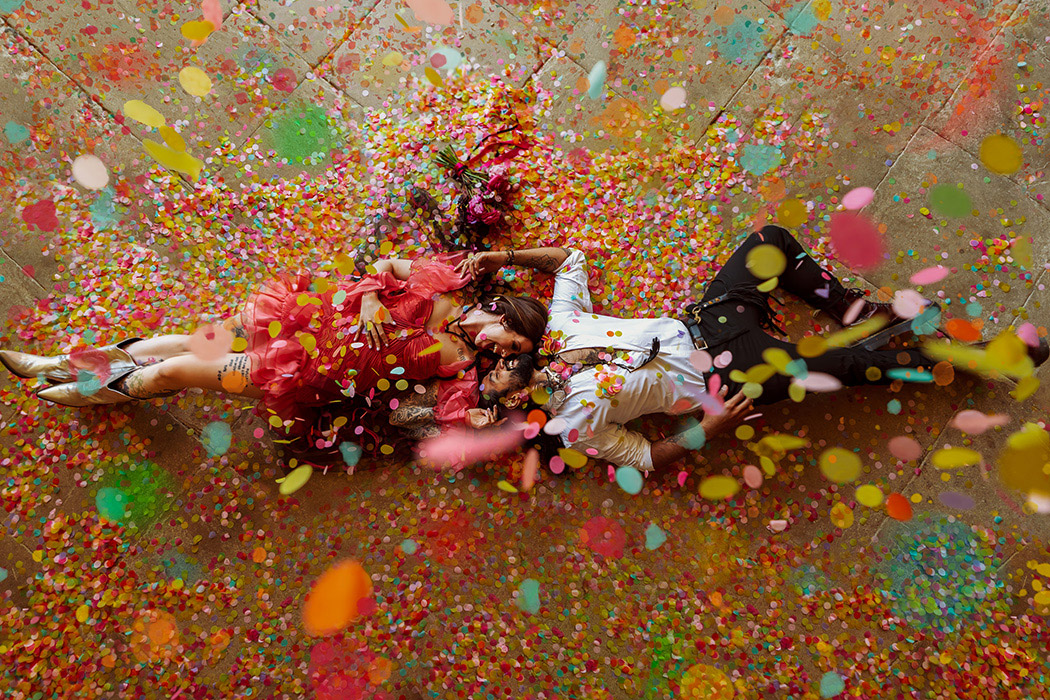 The whole ethos to this workshop is that we can show you there is another way of creating awesome couple portraits without having to follow any of the current fads in our industry. There is a huge rise of certain "looks" at the moment and our concern with that these styles, is that eventually the market becomes saturated with photographers who are effectively shooting the same imagery as they feel the need to conform to the current fads.
The art of wedding photography is, in our opinion, becoming lost as more and more photographers choose to follow a trend rather than shoot authentic imagery that mirrors their needs as creatives.
Our hope is that the people who book on this workshop will be the sort of people who are bored with the current trends, are looking for inspiration and are seeking ways to be more unique in their approach to bride and groom portraiture.
I'd maybe describe each of the shoots as 'Alternative, creative, personality driven'
– Liam Crawley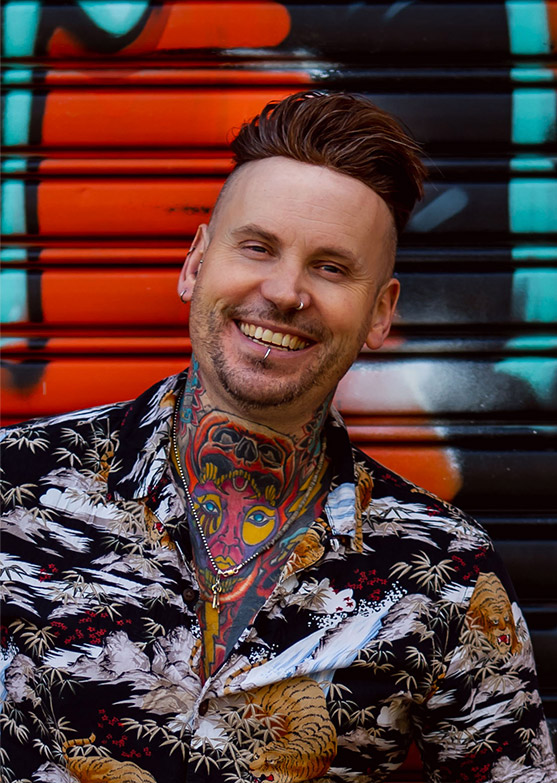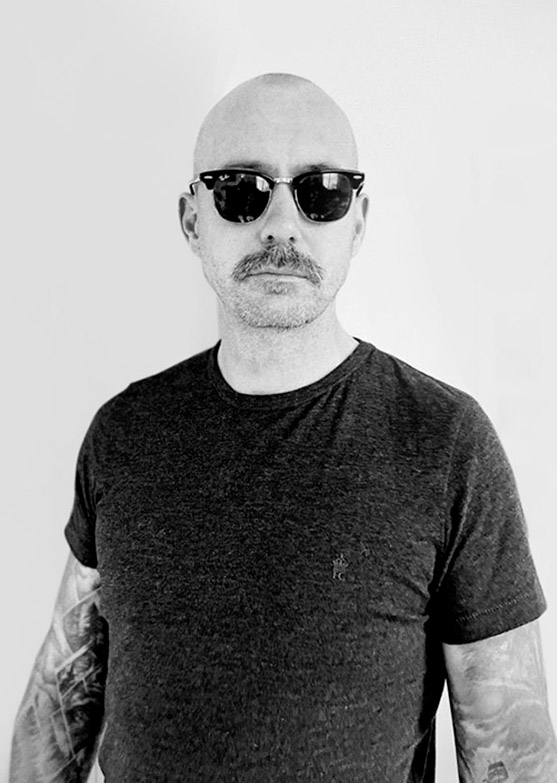 I'm Chris Denner and I'm a crime fighting vigilante and I know more Kung Fu than Bruce Lee.
Well, that is not strictly true, but that sounds way more interesting than saying I'm a wedding photographer.
Because I find most wedding photography boring, cliché and dull as dishwater. Its all the same old poses, cheap imitation and old fashioned nonsense.
I've always tried to create work that's authentic, colourful and real and this has enabled me to have a 23-year career and connect with the right clients who actually encourage me to push my creativity.
This workshop is intended for photographers that are looking at breaking out of the familiar, artists who strive to learn and evolve their craft.
Expect great opportunities, challenges, and "WTF" moments, all delivered in a fun, safe and inclusive environment.
This isn't your standard workshop.
Normal is boring.
I've built a very successful career out of shooting creative portraits.
For me, a portrait of a bride, a groom, or a bride and groom can be much more than simply showing romance or an elegant pose.
If you open your eyes to your surroundings you'll begin to notice multiple compositional opportunities, often in only very limited spaces.
Open your eyes to reflections, negative space, harsh light and humour.
When we look beyond classic romance in portraiture you'll soon notice a whole new world of creative possibilities, keeping you inspired time and time again when you're on a job.
I'm looking forward to seeing you in November and helping you open your eyes to new creative ideas.
Location
Ceconi Castle – Italy
Castello Ceconi is more than just a castle in the mountains, it's a place of inspiration, of learning and of connectivity. A former family home with an amazing history that was rescued by Graphistudio and turned into a place where photographers can join together to support our common goals.
Isolated away from all the distractions of the day to day world, this place will be your playground for a few days, where you can unleash your creativity without having to worry about the usual rules. It's not a hotel so no staff & no other visitors apart from our amazing caterers, and you will have the full run of the place with amazing locations both inside and out, amazing textures, views, nooks & crannies that can inspire you.
Who knows you may even be sensitive to the former inhabitants who allegedly are still enjoying the repurposing of this amazing location.
Everyone who visits leaves inspired and keen to come back.
THESE PORTFOLIO BOOSTING SHOOTS WILL BE:
– INSIDE AND OUTSIDE THE CASTLE
– IN THE SURROUNDING MOUNTAINS
Two physical shoot opportunities each day, with real couples that'll give you a portfolio that's rich, real and authentic.
Not only will you participate in these shoots, but this workshop will also act as an informal mentoring session, where we'll talk about the value of being yourself and then marketing your best attributes to attract the right kinds of clients for you.
An optional photoshoot walk will be available in Venice on Sunday 26th November
⦿ The importance of how you're marketing your brand
⦿ Group discussions – what's your biggest obstacle?
⦿ Workflow – AI editing, art working and finding your creative self
⦿ Visit Graphistudio – how artisan created products can increase your bottom line
There's also no barriers with workshop leaders so you'll get to hang for the day, being CREATIVE, having lolz and picking brains with other delegates and the mentors. We're super social as well, so the community spirit we'll create and the relationships you build with the mentors and other delegates will help you evolve your work.
BUT THESE SESSIONS WON'T BE A YAWN, THERE'LL BE SHORT, SHARP AND TO THE POINT AND WILL COVER A WIDE RANGE OF BUSINESS, SM, AND WORKFLOW TOPICS TO MAKE YOUR BUSINESS EXPLODE INTO 2024!
Program:
Sunday 26th November
Guests can arrive into  Venice and have an optional photowalk with Liam and Chris.
Monday 27th November
11:00 – Leave Venice Marco Polo Airport
12:30 –  Lunch at Vineyard Café.
14:00 – Visit Graphistudio
17:00 – Arrive Hotel – Evening meet & Great at Castello Ceconi
Tuesday 28th November
09:00 – Arrive Castello Ceconi
09:15 – Liam Class
10:15  – Chris Class
11:00 –  Coffee break
11:15 –  First shoot 2 groups with couples
13:00  –  Lunch
14:00  – Second Shoot 2 groups with couples
16:00  – Q & A
17:00  – Return to Hotel
Wednesday 29th November
09:00 —  Arrive Castello Ceconi
09:15 – First shoot 2 groups with couples
11:00 – Liam SEO
12:10 – Chris Marketing
13:00 – Lunch
14:00 – Second Shoot 2 groups with couples
16:00 – Open Forum Q&A
18:00 – Drinks & Party & buffet
Thursday 30th November
10:00 – Return to Venice Marco Polo Airport
This will be a portfolio building workshop
Maximum 20 attendees in two groups
Transportation from the Venice airport (Marco Polo) to the hotel is provided.
Transportation from your hotel to the Ceconi Castle and transportation to the factory tour are also provided.
Coffee breaks, lunch, and drinks are included as well.
Certificate of participation from Accademia Conte Ceconi Italy.
Transportation from Graphistudio factory to Venice airport (Marco Polo) is provided.

We will be meeting all attendees immediately after they exit the baggage claim area and a Graphistudio representative, with a Graphistudio sign will be immediately outside the doors when you exit the baggage claim.
Hotel:  Alla Posta located in Anduins (approximately 15 minutes from the Graphi castle).  Breakfast is included.
While buying your workshop ticket you will be prompted to choose a room for your staying. Payment for the hotel will be collected upon arrival.
As soon as we receive your confirmation for a single/double room, we will email your hotel confirmation/details.
PLEASE DO NOT MAKE RESERVATIONS BY CONTACTING HOTELS DIRECTLY.
The hotel is located in Anduins, a hamlet of Vito d'Asio, in the heart of the Arzino Valley. It is just 10 kilometres far from Castle Ceconi. It features a Wellness Center.
single room  €54
double room for single occupancy  €70
double room  €95
triple room  €110
The prices quoted are per room, per night. Breakfast is included.
All tickets for the workshop shall be non-refundable – if you have a substitute to attend the workshop, please contact your Graphistudio sales representative with the details.
Cancellation Policy: If the workshop is cancelled for reasons our of our control you will be provided with a full refund.
Promotional: You agree that we may include your details in any promotional materials relating to the workshop and or materials used at the workshop.
Phototography & filming / model release: We may photograph or film the workshop and reserve the right to do so for purposes of promoting future workshops or otherwise. You consent to us photographing or filming you and any attendee attending the workshop.
Travel & accommodations: You shall be responsible for making and paying your airfare and hotel accommodations for the workshop. If you arrive at a designed time outside of the pre-arranged pick up times, you will be responsible for your own transportation.
Family members: The workshop, transportation, and meal services are provided for paid attendees only, this is not extended to and for attendee family members.
Translation: No translation will be provided, the workshop will be in English.
Travel Insurance: Each participant confirms they understand and agree to purchase the required insurance that is valid internationally. Suggested insurance includes: Accident & Sickness Medical Expense Coverage. Stolen, lost or damaged property coverage. Trip cancellation coverage.
Assumption of Risk: All attendees understand and are in full awareness and assume full and complete responsibility for all risks inherent in travel and attendee the workshop would could include injury, covid, property damage, and or any other kind of liability.
Transportation: If attendees need transportation outside of the agreed timings they are responsible for arranging and paying for this.
Food restrictions: Attendees with food restrictions, we will have gluten free and vegan/vegetarian options for lunch and dinner
Italian VAT will be charged on reservations placed by clients from European Union. If the VAT number provided is valid, Graphistudio will later refund you the full VAT amount.